Hurricane Katia Kills One With UK Braced For Further Battering [VIDEO FOOTAGE]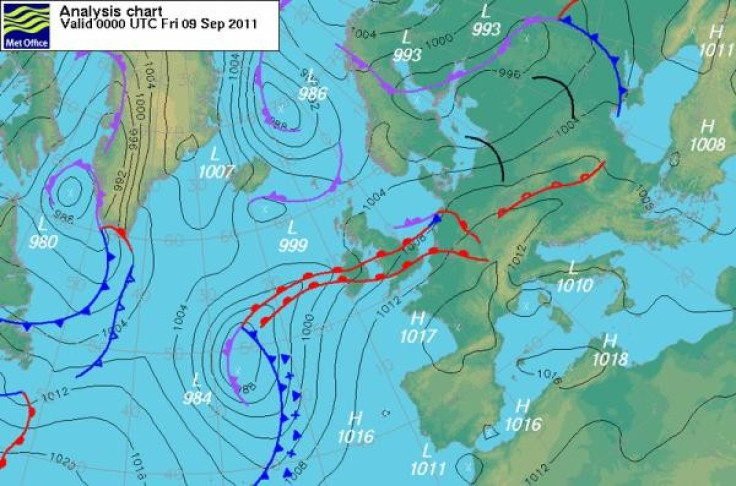 Last night, remnants of Hurricane Katia brought 80 mph winds to Britain killing one man and injuring an eleven year old boy.
The UK was braced for a day and night of severe weather and whilst the south of England was let off lightly the north of England, Wales, Scotland and Northern Ireland took a severe battering with transport links and roads severely disrupted. The clean-up operation ill hampered Tuesday as storms is predicted to continue.
The north of the UK saw a catalogue of disruption yesterday with the M6 at Cheshire closed, Irish Sea Ferries cancelled and some residents in Ireland were left without power as storms took down power lines across the country. The Tour of Britain saw a race staged axed as the winds battered the UK, reports the Telegraph.
"Katia is producing weather extremes which many Brits have not witnessed before. Without a shadow of doubt, Katia is the worst to hit our shores since Hurricane Lili during 1996. The Great Storm of 1987 was the worst recent cyclic storm to hit the UK - but it wasn't a hurricane and wind speeds weren't consistent with hurricane-force winds," Positive Weather Solutions senior forecaster Jonathan Powell, said.
Although the majority of the 80 mph top speed winds did hit Wales and Scotland the whole of the UK did see wind speeds of around 60 mph with the Hurricane scoring a direct hit on the UK. In a worrying development, the Met Office warned today's winds risk will halt repair works on damaged roads, rail networks, ferry networks, dislodged loose slates and masonry on houses.
Durham police has confirmed a man was killed on the A688 when a tree hit his car and a passenger was taken to hospital. Meanwhile, an 11-year-old boy was taken to hospital in Bradford after he was hit by a roof blown off a garage.
© Copyright IBTimes 2023. All rights reserved.