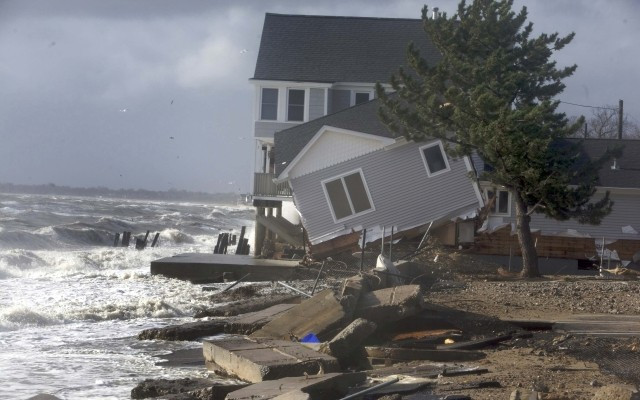 Centuries-old skeletal remains of a human body have been found after superstorm Sandy uprooted a giant oak tree in the city of New Haven, Connecticut.
The discovery was made by a local woman, Katie Carbo, who was on a street corner when she saw an upside down skull. The skull, with mouth open, is said to have a full set of teeth with an intact spine and rib cage, the journal New Haven Independent reported.
"I took a stick and unearthed it more. It was just crazy. I just couldn't believe it. I knew it was a cemetery here," Carbo said, adding: "This is someone's family remains. It should be given a proper burial."
The city police also suspects the place was once used as a burial ground.
"That body has probably been there a long, long time," New Haven police official Anthony Zona said. "Twenty-four years on the job and different things just happen all the time."
According to authorities, the tree fell when the intensity of hurricane Sandy was scaled down to that of a superstorm. Before Carbo saw the skull, two other men had also spotted bones near the uprooted tree but thought them to be those of animals.
The oak tree has been identified as the one planted on the 100th birth anniversary of President Abraham Lincoln in 1909 since a stone at the foot of the tree read, "Lincoln Oak."
Officials assumed that those buried there could be a victim of smallpox from the seventeenth century. A book named Historical Sketches of New Haven claims several people were buried on the site to prevent the pox spreading. Evidence suggests that the last bodies were buried there in 1700 AD.