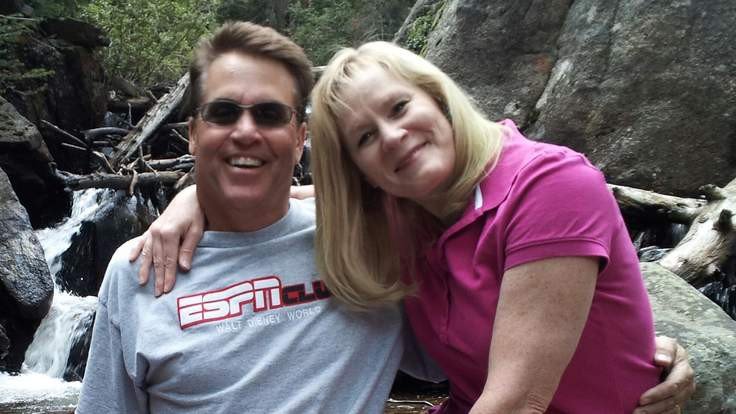 A man has been found guilty of pushing his wife to her death off a cliff in Colorado's Rocky Mountain National Park. Harold Henthorn, 59, was convicted of first-degree murder by a federal jury. Toni Henthorn, 50, died when she fell about 130ft where the couple had been hiking on their 12th wedding anniversary on September 29 in 2012.
It emerged in court that Harold Henthorn's first wife Lynn was killed when she was crushed by the couple's car. When Toni plummeted to her death, almost 17 years later, it aroused suspicion. Both women had been killed during the 12th year of their marriage in freak accidents at remote scenes while alone with Harold – and he stood to collect huge amounts of cash on their life insurance policies.
It then emerged in court that Harold had a map back in his car with an 'X' marking the spot where she died. The jury were shown the last pictures ever taken of Toni as she went on the fateful hike and were played Harold's 911 call. Despite insisting he was doing CPR, Toni's lipstick remained perfect.
Harold's first wife, Sandra 'Lynn', had died in 1995. They were driving to a dinner engagement when Harold thought a tyre was flat and he pulled over to change it. While the car was up on a jack, Harold said he had dropped a nut and Lynn crawled under the vehicle to retrieve it. The car then fell off the jack, crushing her. When a passer-by stopped to help, they saw Harold had not pulled Lynn out from under the car or put a coat over her as she lay dying on the ground. The coroner deemed the incident an accident.
In 2012, Harold and Toni were married and living in Denver. On 29 September, they hiked for a while before going off the trail to some rougher terrain. The couple took photos and selfies as they enjoyed the view before she fell. Harold dialled 911 to report that Toni had fallen 130ft off the edge of a mountain while taking a photo.
"My bride has gone," a grieving Harold told friends and family. The words sounded familiar to them – they were the exact words he had used after he lost his first wife.
As Harold stood to claim a huge amount of money on insurance the police started to investigate in more detail. They also found out that, despite his claims to be a successful businessman, he had not worked in more than a decade. There was no record of him working with charities, as he claimed.
At Harold's trial in 2015, the prosecution said he had planned Toni's murder to cash in on her life insurance policy that was worth $3.3m (£2.2m).