Hyatt, Starwood and other HEI-operated hotels hit by malware attack, customer data feared stolen
20 hotels have been affected by the malware which targeted payment card information of customers.
Hackers have attacked 20 hotels run by HEI Hotels and Resorts, including Hyatt, Marriott, Starwood and Intercontinental with a targeted malware. The cyberattack may likely have resulted in personal and financial information of thousands of customers being stolen and leaked.
Privately-owned HEI, which is headquartered in Norwalk, Connecticut, confirmed that the data breach was first discovered in June this year and was found to be targeting PoS (point-of-sale) systems. The firm also said that the malware was specifically designed to steal card data used by customers to make payments.
HEI said that the malware was active from 1 March 2015 to 21 June 2016 and affected 12 Starwood hotels, six Marriott International Inc hotels, one Hyatt hotel and one other Intercontinental hotel, Reuters reported. The firm also said that hackers may have accessed customer names, account numbers, payment card expiration dates and verification codes. However the hackers appear to have been unsuccessful in stealing PIN codes as they are not stored on the systems.
It is still uncertain as to how many customers have been affected by the breach. According to HEI spokesperson, Chris Daly, the malware was found targeting payments systems used at lobby shops, restaurants, bars, spas and other departments within the premises of the affected hotels. Daly said during the period the malware was active, around 8,000 transactions occurred in Hyatt Centric Santa Barbara hotel in California and about 12,800 at the IHG Intercontinental in Tampa, Florida.
However, HEI posted an alert, apologising to customers and said that the incident "has now been contained and individuals can safely use payment cards at all of our properties".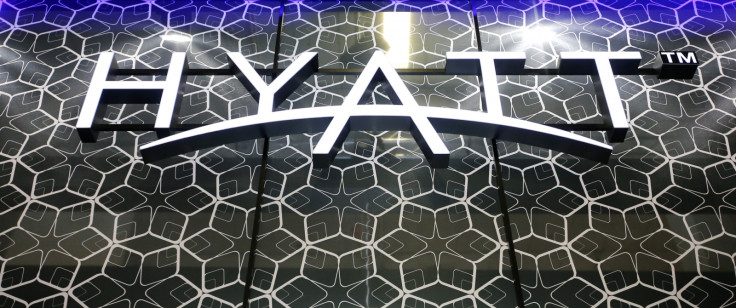 How and why are PoS systems vulnerable to cyberattacks?
Security Scorecard chief research officer Alexander Heid told IBTimes UK, "Typically, the average attacker seeks to infect PoS systems to retrieve credit card track data. These attackers seemed to be able to pivot into the main customer portal after infecting a single machine within the oracle network, and were interested in obtaining logins and passwords, as well as what is presumed to be credit card track data. Attacking a single vulnerable device and pivoting into a more secure area of the network is a common and effective method that hackers often use."
"PoS systems become vulnerable to cyberattacks for the same reasons any Internet connected system would be vulnerable to attack: outdated software, weak passwords, incorrect configurations, and/or malware infection. There are a few popular PoS malware families that are circulating the underground at the moment, such as JackPOS," he added.
How are users affected?
Chris Strand, Carbon Black's PoS expert told IBTimes UK,"Over a few days, weeks or months a single POS machine can provide a hacker with data on thousands of credit cards. Given that it takes 87 days on average to detect an attack, hackers often are able to harvest users cards for weeks or months before being shut down."
"Normally, POS and retail/hospitality systems enter the spotlight around the holiday freeze period in the fall, when systems are stressed and known vulnerabilities are easier to exploit. Summer is a non-typical time for POS to be targeted. This shows us that there is still a need for continuous risk measurement and security vigilance," he continued.
Heid also pointed out, "PoS breaches impact both the customer of the affected service provider, as well as the individuals using payment cards to conduct transactions. Once credit card track data has been obtained, it can be cloned onto a new card and used by the attacker. Sometimes attackers are able to change PIN numbers on stolen debit cards from certain banks that allow PIN resets via the bank websites. Attackers would call the banks to social engineer a password reset on the account, check the account balance, change the PIN number, and make withdrawals."
© Copyright IBTimes 2023. All rights reserved.