Work around the Hyperloop seems to be progressing at breakneck speed, with several countries having shown interest in firing citizens across the land in what is essentially a supersonic toboggan ride. The United Arab Emirates (UAE) is also getting in on the idea, and Hyperloop One is now gearing up to make a big announcement about its plans to bring the 760mph transport system to Dubai.
Hyperloop one – one of two competing Hyperloop companies – dropped a video over the weekend teasing a major project announcement on 8 November. The video hints at a Hyperloop system connecting Dubai with other major cities in the Arabian Peninsula that would shuttle passengers between countries in mere minutes.
The video compares the Hyperloop to other forms of passenger transport and basically demonstrates how it would blow them all away, touting a travel time of just 12 minutes between Dubai and the UAE capital of Abu Dhabi, situated almost 100 miles away. The same journey would take an aeroplane an hour and twenty minutes to complete, whereas the same journey by bus would take two hours.
Prospective passengers can expect a journey time of 23 minutes between Dubai and Qatar capital Doha, meanwhile Hyperloop One promises to tackle the 821 mile stretch between Dubai and Riyadh in Saudi Arabia in just 48 minutes.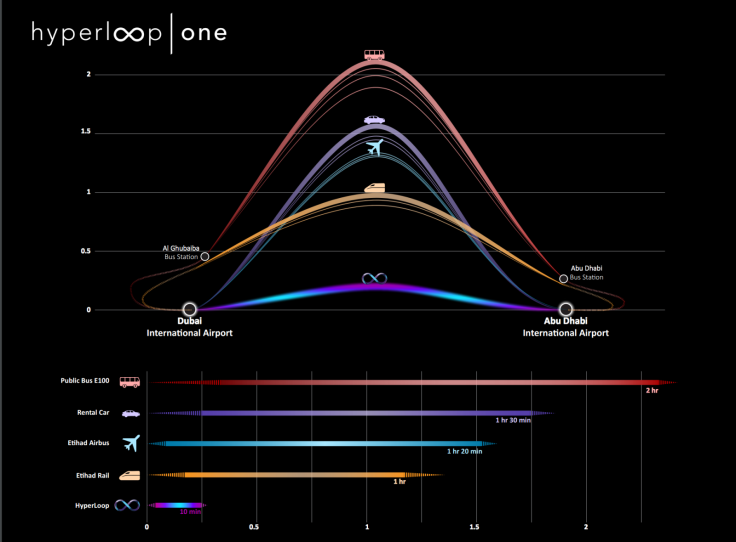 While a fully-functional and passenger-ready Hyperloop is still some years away, progress on the Hyperloop seems to be developing almost as fast than the speeds it touts. It was just a few years that Tesla CEO Elon Musk first pitched the idea of a system of low-pressure steel tubes capable of carrying 'floating' pods on air cushions across large swathes of land at very high speeds.
It was an idea that many assumed to be another of Musk's elaborate schemes, yet both competition and interest around the concept has been fierce, with the UK, US, Australia, Russia and several other countries in Europe now pursuing the Hyperloop pipe dream.