New York's Times Square was dubbed as the Crossroads of the World on Sunday (19 February) as thousands of people took part in a march protesting against US President Donald Trump's immigration policy, showing solidarity with the city's Muslim community. The protesters were seen carrying banners and placards reading "I am a Muslim too" and "No Muslim Ban" while chanting slogans.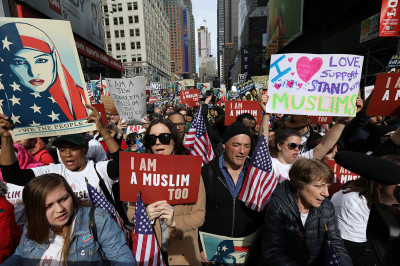 Demonstrations were also held in Chicago, which saw hundreds of people gather on Wacker Drive across the Chicago River from Trump Tower. The demonstration then moved down State Street to Federal Plaza and holding signs in English, Spanish and Arabic, calling for resistance to President Trump's immigration policy. The protesters denounced Trump's administration for its position on climate change, gender equality and other issues. "I'm here to protest everything that 45 (45th U.S. president) stands for" one protester told Reuters. Another continued, stating that "From his views on women to his views on immigration, racism, sexism and all the awful things that he is representing is embarrassing our country," they said.
A protest was also held in Pittsburgh, Pennsylvania, where anti-Trump protests marched through the city's Market Square.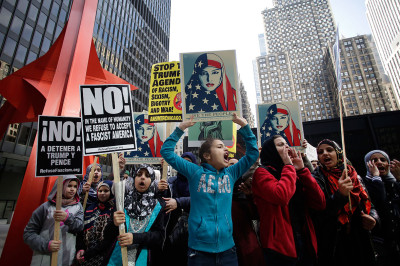 Trump signed an executive order on 27 January, temporarily banning all people from seven Muslim-majority countries and nearly all refugees from entering the US. The order has been put on hold as judges around the country have questioned its constitutionality. Despite the legal challenges to the travel ban, the Trump administration has promised a revised version as early as this week. Sunday's protests have added to the long line of demonstrations that have been held across the US – and the world, since Trump's presidency began.