Rebecca Hall on diminished Iron Man 3 role: 'I signed on to do something different'
Actress claims she had to fight for her role and talks about gender inequality in films.
For all of its box-office successes and five-star reviews, Marvel Studios is not always perfect in the eyes of many viewers. An issue that fans have long had when it comes to the cinematic universe is its inclusion of weak – and sometimes little known – villains from the comic books, but the biggest one is undoubtedly its lack of female characters (or more specifically, female superheroes).
So when Iron Man 3 director Shane Black claimed that Rebecca Hall's Maya Hansen was originally intended to be the film's villain but her role was dramatically changed and reduced earlier this year, people were not pleased. Now, while promoting upcoming biographical drama Christine at the Toronto Film Festival, Hall finally spoke out about Black's revelations, not only confirming that they are "100% true" but confessing that she wasn't even aware that her role would be significantly altered until halfway through filming.
"I signed on to do something that was a substantial role," she told the Toronto Sun. "She wasn't entirely the villain – there have been several phases of this – but I signed on to do something very different to what I ended up doing. Halfway through shooting they were basically, like: 'What would you think if you just got shot out of nowhere?'
"I was meant to be in the movie until the end," she continued. "I grappled with them for a while and then I said: 'Well, you have to give me a decent death scene and you have to give me one more scene with Iron Man,' which Robert Downey Jr supported me on."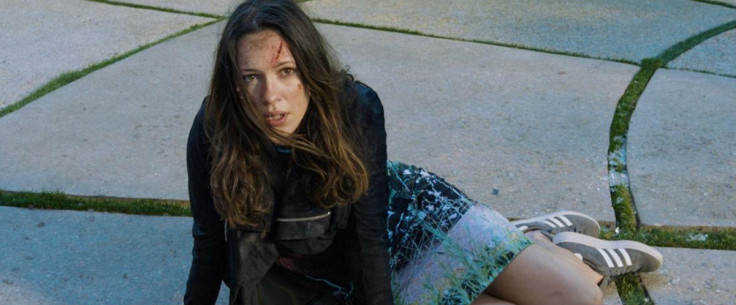 According to Black, after meeting toy manufacturers, Marvel bosses were concerned that a female baddie wouldn't sell as much merchandise as a male equivalent so they had Guy Pearce join the movie as comic-book antagonist Aldrich Killian causing Hall's Hansen to take a back seat. As fans of the film will know, Ben Kingsley appeared as antagonist the Mandarian, too, who actually turned out to be actor Trevor Slattery working for Killian – a twist ending that didn't go down too well with fans either. Whether it would have been better had Marvel kept Hall's role as it was is anyone's guess.
Guy Pearce joined the cast as antagonist Aldrich Killian after Marvel bosses gave Black their feedback
Marvel Studios
However, since Iron Man 3 came out in 2013, Marvel does seem to be attempting to rectify the lack of gender equality in past outings. During San Diego Comic-Con in July, it was finally announced that a Captain Marvel movie was in the works with Brie Larson set to star in the lead role; something Hall was glad to hear.
"Look, [Marvel] is paying for their mistakes right now, and I applaud them for casting Brie Larson in Captain Marvel. Hallelujah. It's about time women started being the heroes of things. They can also be the anti-heroes of the things and that's what I feel I'm getting to do with Christine."
Christine is currently scheduled to reach US cinemas on 14 October 2016. It is yet to receive a UK release date.
For more entertainment news follow A-List on Twitter @Alistinsider
© Copyright IBTimes 2023. All rights reserved.