Upon first hearing Adam Driver comparing upcoming sequel Star Wars: Episode VIII to The Empire Strikes Back may not make fans all that excited, given that the one real critique franchise lovers had of previous instalment The Force Awakens was that it was a little too similar to A New Hope. As it turns out though, everyone needn't get in a tizzy as the follow-up won't be a carbon-copy when it comes to the 1980 movie's plot but rather its tone, according to Driver.
"It's great. It's similar to how The Empire Strikes Back has a different tone," the actor, who plays antagonist Kylo Ren, told Collider.
"For that people always go 'oooh, it's dark' but I don't know that it necessarily is. It's just different in tone in a way that I think is great and necessary but also very clear."
Driver also went to praise the film's director Rian Johnson, saying that it is evident in Episode VIII that he "trusts his audience is ready for nuance and ambiguity. He's not dumbing anything down for someone and that's really fun to play," the 32-year-old concluded.
Given that he portrays a baddie, it makes sense that Driver would see certain points that resonate between the second film in the original trilogy to the second film in the current one, but it's almost hard to believe that he doesn't mean it in terms of story line. While A New Hope concentrated on Luke Skywalker, [then Princess] Leia and Han Solo rising up against the Galactic Empire alongside the Rebel Alliance (and ultimately destroy the first Death Star), The Empire Strikes Back saw the Imperial Army retaliate and take back control, making it anyone's game leading into the third instalment.
Similarly, The Force Awakens had Rey (Daisy Ridley) join forces with former stormtrooper Finn (John Boyega), Solo (Harrison Ford) and [now General] Leia (Carrie Fisher) to take down the First Order. Right at the end of the film, the heroes obliterated the enemy's Star Killer Base. Will Episode VIII see the villains rise up in revenge? Only time will tell.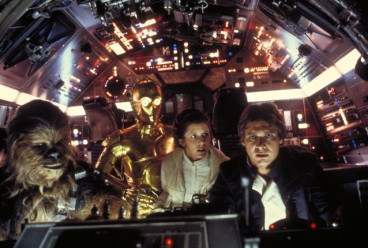 Star Wars: Episode VIII is currently slated to reach both US and UK cinemas on 15 December 2017. Other returning cast members include Domhnall Gleeson, Oscar Isaac, Mark Hamill, Anthony Daniels, Gwendoline Christie and Andy Serkis, who lent his voice to computer-generated character, and Ren's big boss, Supreme Leader Snoke.
For more entertainment news follow A-List on Twitter @Alistinsider