The only crew member believed to have survived when a fishing boat capsized in the "freezing" English Channel has spoken of how he was forced to urinate on his hands to keep warm as he clung to the overturned vessel for 11 hours.
The 55ft Belgian-registered shrimper boat got into difficulty several miles off Ramsgate in Kent at about 11pm on Tuesday (27 December).
Johny Ronsijn, 50, is thought to be the lone survivor after another rescued crew member later died, and a third fisherman is still missing presumed dead.
Ronsijns, from Eernegem in Belgium, said he "heard a bang" before the ship overturned. He said he was left struggling to stay afloat as he was plunged into "freezing" and near pitch-black waters.
"I took off my gloves and cut my braces off with a knife so I could get back up [to the surface]," he told Belgian TV.
"I came up and saw the ship because the lights were still glowing underwater. I could orientate myself and swam to the ship. You hang on tight and go with the flow and when it goes down, you can climb up."
Ronsijns, who has been a fisherman since the age of 14, clung on to the hull of the vessel for 11 hours before eventually being found and winched to safety by the UK coastguard on Wednesday morning.
The rescue operation was sparked when the overturned boat was spotted by a passing oil tanker.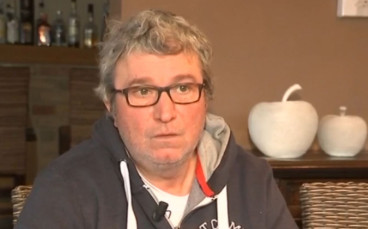 Ronsijns spoke of the difficulty coping with the eight degrees celsius water temperatures, saying his legs down to his feet turned blue. "I kept my head warm by pulling my sweater over my head and blowing into it," he said. "I moved my hands, and if my hands got too cold, I urinated on them. It was absolutely freezing."
A second man, named as Belgian skipper and father-of-two Eric Maeckelbergh, didn't survive the incident. He was found alive in the waters on Wednesday but later died in hospital. The third and final crew member, said to be Spanish, has still not been found and the search was called off on Thursday.
"The worst thing is your colleagues who can't come with you," Ronsijns said. "It's a lottery. I've got the main prize, they've got nothing."
An investigation into the cause of the incident will be carried out by Belgian authorities as will a missing person inquiry, the Maritime and Coastguard Agency said.
It is believed the vessel will be taken back to the Belgian port of Zeebrugge following a salvage operation.