So here's the thing. I've been feeling pretty sad about leaving the European Union, so to cheer myself up I ordered a T-shirt with the European flag on it. I intended to wear it on the day Article 50 was triggered, my way of declaring that for the moment at least I am still part of this great collective endeavour enshrining peace and prosperity on our continent. Big sigh. To hammer the point home, I bought a second blue T-shirt which said Still European.
They didn't arrive in time, however, so I wore black on March 29th. I thought back to the six years that I was a journalist in Brussels – at a time the European Union was expanding to the East (which by the way, was pushed for by the UK who saw a wider union as an antidote to the 'ever closer union' that provoked irrational fear among our political elite. But I digress). In that time I saw a great many press releases, but none moved me to tears – until I read the European Council reaction to Article 50.
"We regret that the United Kingdom will leave the European Union, but we are ready for the process that we now will have to follow." When I read those words I was filled with a deep rush of nostalgia. "We will approach these talks constructively and strive to find an agreement," the press release continued. "In the future, we hope to have the United Kingdom as a close partner."
When David Cameron announced the referendum, I chose to see it in a positive light (albeit with reserve about making such a massive constitutional decision this way). In the UK, there was (and sadly still is) a huge lack of understanding about how the EU operates, but I also perceived a strange unwillingness to see any good in it. Even people who professed themselves pro-European felt obliged to caveat all declarations with 'but of course, it needs reform' (as do many things, but somehow we feel able to express love for our partners and their cooking, for example, without needing to point out their flaws. But I digress again).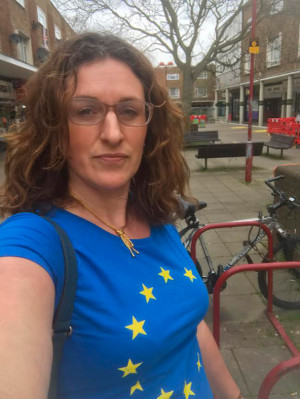 I hoped the referendum would get things out in the open. We'd debate the benefits of the EU, even for those who never leave the UK – from cleaner beaches to cheaper mobile phone bills. We'd realise that a lot of things we blame on the EU were either baloney or a quirk of our very own Health & Safety regulations. We'd have an honest discussion about what we'd like to change, and how the UK could contribute to that reform (that 'r' word again). We might even realise that we have a lot in common with our EU neighbours, and how we stand stronger on the world stage when we're together.
Very few people wanted to debate, however. Instead, there was lots of shouting, some lying, and the tragic shooting of MP Jo Cox. It was only after the vote when people started googling what leaving the EU would mean. In my neighbouring town of Harlow, a Polish man was beaten to death and some questioned whether Brexit was to blame for a rise in hate crime.
But what does any of this have to do with my EU T-shirts? When they arrived, I laid them out on the kitchen table – and considered sending them back. You see, I wasn't sure if I'd be able to wear them in public. My partner advised me not to. And that made me really mad (not his advice, I must stress, but the fact that I felt intimidated). A few years ago, if I'd worn the EU flag I would have looked like a nerd. Just when exactly did the climate of repression in this country mean that I can't wear what I chose?
Why are you people still coming to talk to me about this Brexit?
I resolved to wear my T-shirts, no matter what anyone said. For the Saturday morning Harlow park run, a 5km (or 3.1 miles, if you prefer) running meet for around 150 people, I donned the Still European one. With the EU flag on my chest I walked from The Stow in Harlow, where Arek Jozwik was killed, to the centre of town. I also wore it for a trip into London and a walk along the Southbank.
At first, I thought – and quite possibly imagined – that I was attracting furtive glances. Harlow voted to leave the EU by a definitive 68.1% and when I turned, people often looked away. But the only comment on my choice of attire was "like the T-shirt," when I crossed the finish line. Walking around London and in Harlow town centre, no-one seemed to notice.
So why had I been afraid to wear them? To help me figure it out, I paid a visit to Jacek Gora, who owns a Polish shop in The Stow. "Why are you people still coming to talk to me about this Brexit?" he asked, shaking his head. "People just want to get on with things like they did before."
And it struck me that despite all this grandstanding from politicians, most people don't care that much about the EU. Figures released from an Economist / Ipsos-MORI survey of British public opinion this week show that few people cited Europe as an important issue affecting the country – until politicians asked us to vote. The tragedy of this referendum is that what began as an internal dispute among politicians has now engulfed all of us. We were dragged into a referendum as a way of resolving things once and for all – for the Conservative party.
What we're about to discover is that we won't be able to go about things as we'd done quite happily before. But at least we can still wear the T-shirt.
---
Emma was a journalist in Brussels from 1998-2004, followed by Paris until 2010. She now runs her own storytelling consultancy Kagisha.
---