Jo Cox murder trial: Labour MP was 'shot in head through her hands as she tried to protect herself'
Murder trial hears how mother-of-two was stabbed 15 times, including to her heart, lungs and liver.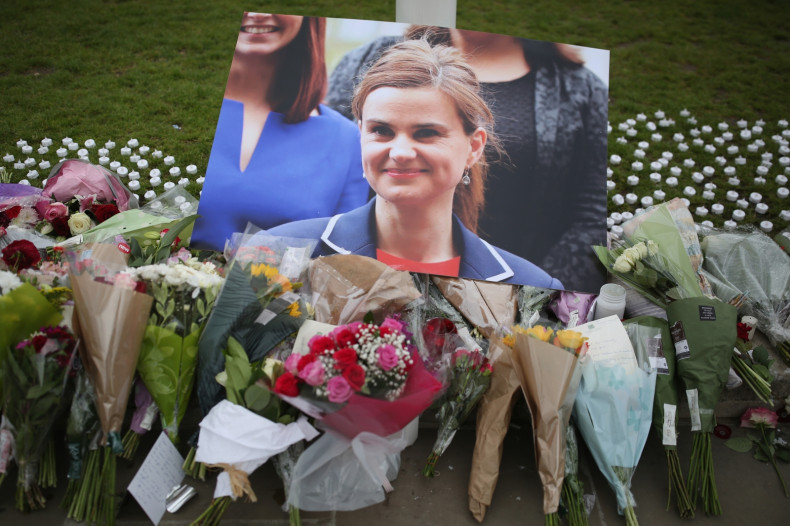 Labour MP Jo Cox was shot in the head through her hands as she desperately tried to protect herself from her killer, a court has heard. The mother of two was also stabbed in the heart, lung and liver, a jury was told, during the attack outside her constituency surgery in Birstall, near Leeds, on 16 June.
Thomas Mair, 53, an unemployed gardener from Birstall, is accused of the 41 year old's murder – a charge that he denies.
When arrested, Mair was allegedly found carrying a bag of .22 calibre rounds, about half of which were said to be hollow-point bullets made of lead designed to inflict maximum damage.
He is alleged to have shot Cox once in the chest and twice in the head with a sawn-off .22 caliber rifle made in Germany.
The fourth day of the trial at the Old Bailey saw computer-generated images of the MP's body shown in court, showing the full extent of her fatal wounds.
Pathologist Dr Richard Shepherd said that Cox had died "as a result of multiple stab and gunshot wounds". He told the court some of the 15 stab wounds she suffered had been inflicted with between "moderate and severe force", adding that a wound to her hand was a "through and through" entry and exit bullet hole.
Dr Shepherd suggested her hands "were up covering the face and the bullet has gone through the right hand and ... into the head". He added: "I concluded that she received multiple stab wounds to the back, front and left side of the chest and abdomen. The stab wounds had penetrated her heart, left lung, stomach and liver."
The jury was shown the modified bolt-action rifle allegedly recovered when Mair was arrested – banned in Britain because of its reduced size. A knife said to be a replica of a Second World War British Commando dagger was also shown in court.
Andre Horne, a forensic firearms examiner, told the court that hollow-point bullets, like those allegedly found in Mair's possession, expand on impact and cause larger wounds. He said they were commonly used by hunters to shoot vermin as they were considered to be more humane than bullets, which might pass straight through the target.
"They are used for hunting vermin – squirrels or rabbits," he told the court. "The purpose of the expanding bullet is to maximise the energy that is transferred to an animal. Or a person."
A ballistics expert confirmed the casings found at the scene had been fired by the same rifle allegedly used by Mair.
Evidence was also heard from paramedics at the scene who tried to save Cox's life.
A statement read in court from Dr Ben Raynor, who performed emergency surgery on the MP inside an ambulance at the scene, said: "No matter what we tried, we couldn't get the heart to restart ... Everyone was in agreement we had done everything we possibly could to save the patient."
Cox had been in Birstall to attend a surgery for her constituency of Batley and Spen on the day of her death. An anti-Brexit campaigner, she had been due to join a EU referendum campaign stall later that day.
Earlier in the trial, jurors had been told that Mair accessed "far-right" material before Cox's death. This included, the court heard, internet searches on the Ku Klux Klan and Hitler's Waffen SS. The court also heard how Mair had allegedly declared himself a "political activist" when he was approached by police moments after the attack, with witnesses also claiming he shouted "Britain first" during the alleged murder.
The prosecution also said he looked at information on .22 gun ammunition, including answers to the question: "Is a .22 round deadly enough to kill with one shot to a human head?"
Mair denies murder, grievous bodily harm with intent, possession of a firearm with intent to commit an indictable offence and possession of an offensive weapon – namely a dagger.
The trial, which is expected to last three weeks, continues.