With the advent of PlanetBeing into the Dream Team, Pod2g's efforts to release the A5 version of the Corona jailbreak gains momentum.
The triumphant return of the legendary coder brings good news to the Apple fans, as he tries to rectify the iBook DRM (Digital Rights Management) issues after the device is successfully jailbroken.
iBook users have reported complaints with certain texts and images being broken or displayed incorrectly while reading or viewing books. Apparently, Apple's DRM protection is the reason for the arousal of this issue.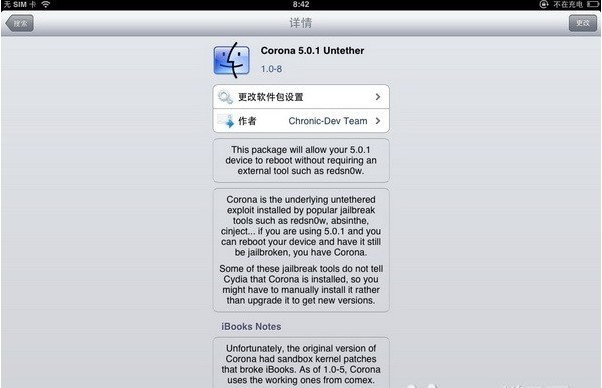 The issue has been resolved by Corona's latest update 1.0-8 downloadable at Cydia Store. Corona 5.0.1 Untether 1.0-8 now supports iPhone 4S, iPad 2, iPad 1G and iPhone 3GS and other A4 iOS devices jailbroken on 5.0 or 5.0.1 using either Redsn0w or Greenpois0n Absinthe.
Meanwhile, another issue where the iBook app crashed to the desktop after successful jailbreak has been fixed with the RedSn0w 0.9.10b5 update. Users, who have already installed Redsn0w, need to rerun the 0.9.10b5 update (make sure you uncheck "Install Cydia" option) to fix the issue.
Downloads are available at the following links:
Download Redsn0w 0.9.10b5 for Windows
Download Redsn0w 0.9.10b5 for Mac
Must Read: Britain on Snow Alert as Cold Wave Sweeps Europe
Must Read: iPad 3: Top 10 Most-Anticipated Features
Must Read: Top 10 Most Affordable Fuel-Efficient Cars