Kenya is bracing for yet more anti-election protests on Monday (6 June), despite a warning by the capital's police chief that they were prepared to use lethal force if necessary. The opposition Coalition for Reforms and Democracy (CORD), led by former Prime Minister Raila Odinga, who lost the 2013 election, has been carrying out protests in Nairobi and other major cities every Monday for several weeks.
It is calling for the electoral commission (Independent Electoral and Boundaries Commission, IEBC) to be dissolved due to allegations of bias and corruption (Read Why is Kenya's opposition protesting?).
Why is Kenya's opposition protesting?
Kenya's next presidential and parliamentary polls are not due until August 2017, but politicians are already trying to galvanise their supporters in a nation where violence erupted after the 2007 vote and the opposition disputed the outcome in 2013.
CORD, led by Raila Odinga who lost the 2013 vote and unsuccessfully challenged the result in court, has accused the IEBC of bias in favour of the governing Jubilee coalition, and lack of independence.
Its supporters insist that the same officials should not be allowed to preside over the 2017 general election.
The ruling Jubilee party defend the officials.
Protests, however, were suspended for two weeks after police shot, beat and tear gassed demonstrators, and three protesters were killed in a similar rally on May 23 after protests turned violent.
Kenyan police say protests illegal
Echoing Inspector General of Police Joseph Boinnet in Mombasa, who pointed to an existing court order banning the opposition from holding protests, Nairobi Police commander Japeth Koome said on Sunday that the protests are illegal.
He warned people not to come to the streets to demonstrate "if you value your life", as police were prepared to use lethal force if necessary and make arrests, setting the scene for potential confrontation.
"No demonstration. That's the message. If you have nothing else to do, sleep. It will not be allowed," Koome said.
"That's why I'm questioning those who have intentions of demonstrating tomorrow. Don't come, then you start talking about police brutality. Life is dear! Please, if you value your life, don't attempt it that way. You will be dealt with firmly."
Protesters determined to go ahead
Opposition politician, James Orengo, responded by saying the demonstrations would go ahead despite police warnings, as there was no lawful justification to prohibit it.
In what has become a regular occurrence, businesses, shops and Kibera Olympic Primary School closed down in Kibera slum's Olympic area ahead of the rally for electoral reform.
Meanwhile, social media users on Monday morning also took to Twitter to discuss the upcoming #CORDdemos, using the hashtags #TeargasMonday and #IEBCMustGo.
The hashtag #StopPoliceBrutality trended across Kenya following the publication of footage on 16 May on social media, apparently showing police lobbing teargas, kicking and beating largely peaceful protesters with truncheons as they tried to flee. Demonstrators responded by throwing stones.
Protest violence is a 'threat to human rights'
Otsieno Namwaya, a researcher at Human Rights Watch's Nairobi office said police use of excessive force and ensuing violence was a threat to human rights.
"Unless the government can rein in its abusive forces and fairly investigate Monday's violence, Kenya could roll back the gains realised in the last decade," he said.
Kenya faces the spectre of another disputed and violent election next year, less than a decade after mass post-election violence between December 2007 and February 2008. They left at least 1,133 people dead, more than 600,000 displaced, while more than 40,000 incidents of sexual and gender-based violence were recorded.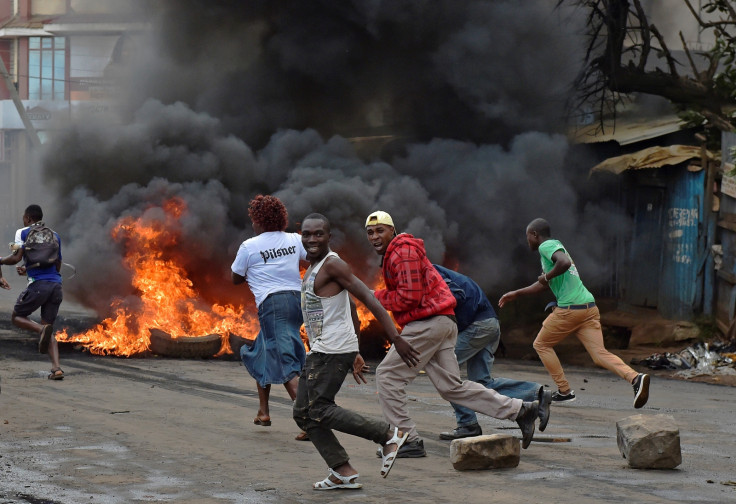 UPDATE
06/06/16 11:30 GMT:
IBTimes UK has received unconfirmed reports that one person has died during the ongoing protests in Kisumu, Kenya's third largest city.
Similar reports have been shared on Twitter.