Incredible footage has been captured of Iceland's largest volcanic system Bardarbunga erupting beneath the spectacular display of the aurora borealis.
Bardarbunga erupted over the weekend after weeks of increased seismic activity. The video, uploaded to YouTube by photographer Martin Rietze, begins with a timelapse view of the northern lights, before moving closer to get shots of lava spewing from the volcano.
The second part shows a close-up view of molten magma fountains filmed from a helicopter around 1km from the crater.
It is located underneath Vatnajokull, Iceland's most extensive glacier, and the whole volcanic system stretches across 120 miles of eastern Iceland.
Over the past few weeks, the area has been hit by thousands of earthquakes and eruptions. A 4.8-magnitude earthquake occurred at around 8pm local time on Tuesday 16 September, followed by around 40 smaller tremors throughout the night.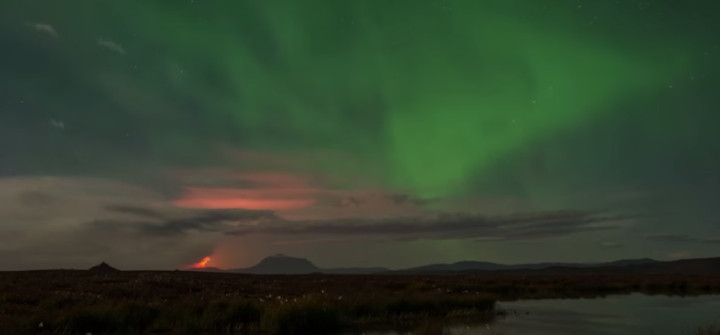 Lava is flowing from the Holohraun lava field, north of the glacier, which is estimated to be around six to eight metres thick and flowing at a rate of around 1,000 cubic metres per second.
Scientists are continually monitoring the volcano but are hindered by the toxic natural gases being emitted.
The wind has carried sulphur dioxide acrosss the country and has been reported as far as Norway and Finland, prompting Iceland's health authorities to advise children and those with respiratory problems to stay indoors.
The aviation warning alert has remained at orange, the second-highest level, after the Icelandic Meteorological Office downgraded it from red after no ash was produced from the eruption.
Authorities said the activity remained continuous.