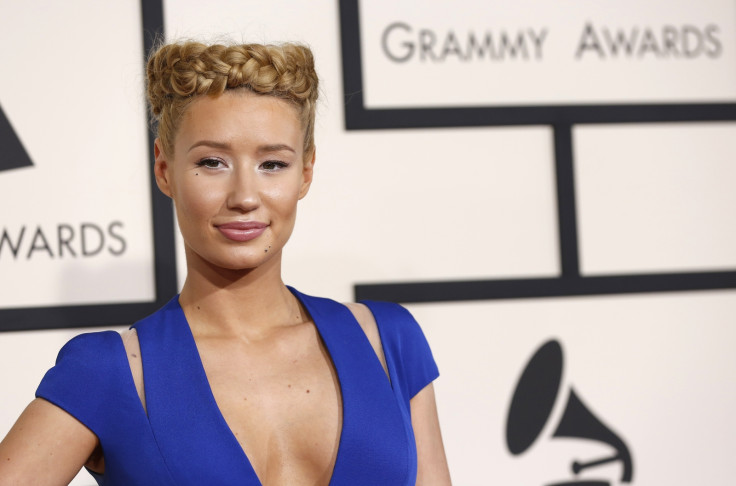 Iggy Azalea has been forced to rubbish rumours that she is a secret drug fiend after being pictured with marks on her hands.
The Fancy hitmaker, who just landed in Sydney with her fiance Nick Young, unwittingly found herself at the centre of a drug scandal after gossip website MediaTakeOut published a story with the headline: 'DRUG ADDICT????? A Close Up Pic Of IGGY AZAELIA'S Hands . . . Shows TRACK MARKS . . . Like She's A HEROIN ADDICT!!!'
Within minutes concerned fans took social media on the hunt for answers.
As a result of the online outpouring, Azalea took to social media to set the record straight."Just landed in Australia and I'm dying with laughter because nicks just showed me an article that says im a heroin addict. WHAT?! LOL," the 25-year-old rap artist told her 5.6 million Twitter followers.
She followed up with an explanation, writing :"Could be injecting heroin into my hands.... OR could just be scratches from @AleHerself's evil cat that attacked me the other week."
But Azalea was not letting the reports stop her from enjoying her time Down Under, as she also tweeted a snap of her snuggled up to Young, with the caption: "Nicks having trouble adjusting, but im ready to go out. #HiAustralia."
The drugs claim comes days after Azalea confirmed long-standing speculation that she has gone under the knife for a nose job. "I'm not denying it. Denying it is lame. I don't think you should be ashamed if you made a change to yourself, which is why I've spoken about the changes I've made, like with my breasts," she told Seventeen magazine.
"Your perception of yourself can change a lot over time, so I think it's important to wait and make sure it's the right choice. Plastic surgery is an emotional journey. It's no easy feat to live with your flaws and accept yourself – and it's no easy feat to change yourself. Either way you look at it, it's a tough journey."