Life in Essex was clearly no preparation for life in the jungle for reality star Gemma Collins.
Her first day in camp and the TOWIE regular is already struggling to keep it together.
The star had a meltdown at the first hurdle, as she demanded to be let out of the helicopter flying the celebrities into the jungle.
In a panic, she forced the pilot to stop the engine as she got out and left her fellow contestants to face their parachute jump, while she walked to the camp.
Confessing all to her campmates she said: "I had a terrible panic attack earlier. I'm sorry, I know you're probably thinking, 'This girl's not going to do anything,' but I swear I will do my best."
She had got off to a bad start as it was, when host Ant McPartlin revealed that Gemma and fellow contestants Coronation Street actor Craig Charles, 'Allo 'Allo funny girl Vicki Michelle, motor biking champ Carl Fogarty, Irish model Nadia Forde had been chosen by the public to spend a night in the 'Celebrity Slammer'.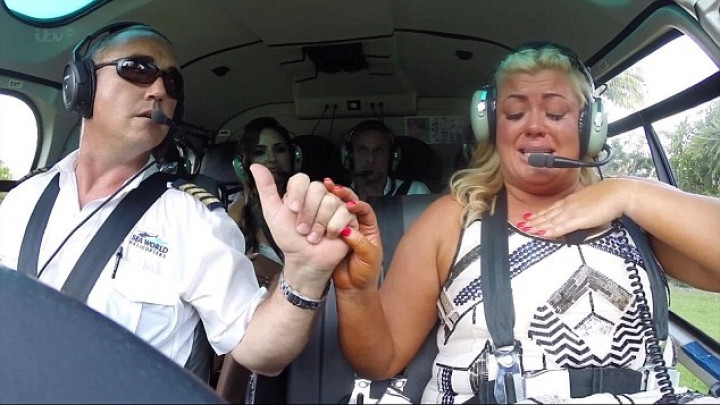 In stark contrast, the second group consisting of rapper Tinchy Stryder, TV presenter Melanie Sykes, newsreader Michael Buerk, former Playboy pin-up Kendra Wilkinson, and footballer Jimmy Bullard, were told by host Declan Donnelly that the viewers had already voted to allow them to have one last night of luxury, enjoying cocktails before being treated to a lavish breakfast of smoked salmon and caviar.
Spending their first night in the slammer, which had no beds and was infested with jungle critters, comedy star Vicki exclaimed "Oh my God," while Carl added: "Welcome to hell."
Food was already an issue for the campmates interred in the celebrity slammer with provisions comprising of porridge.
"Three meals a day, porridge, porridge and porridge. And I don't like porridge," said Craig.
Carl added: "I can't understand how it can taste so bad. It's so dry and like dust and cardboard. It's horrible."
But, despite her slow start, it was Gemma to the rescue as she demonstrated her culinary skills, making slightly more palatable porridge patties.
She explained: "Everyone was starving and we only had porridge. Because I like cooking and I like food, I was like, "what can we do," and then I came up with the porridge pattie."
But day one and the lack of food is already taking its toll. "I'm leaving," she said. "We're in the Slammer and I need some decent food. I can't eat porridge ever again, I'm going to die,"Gemma said, rather dramatically.
"If they don't give us a treat in a couple of days I'm going to kill myself. I'm thinking about how I'd do it."
"She is one for melodrama," observed Craig.
Meanwhile, acclaimed BBC broadcaster Michael Buerk brings an air of class and sophistication to the camp and just a touch of old fashioned values it seems.
When the camp were called upon to decide who should be released from the Celebrity Slammer he said: "Shouldn't we get a woman? She might be able to cook."
The newscaster, who appears to have bonded with rapper Tinchy Stryder, drew the line at an invitation to try his hand at twerking. "Maybe once I've got to know you all better ," he said.
It was left to superbike champion Carl Fogarty to take on the first challenge titled 'Snakes in a Drain' and straight off the mark he managed to impress with his stoicism in the face of a pit of pythons.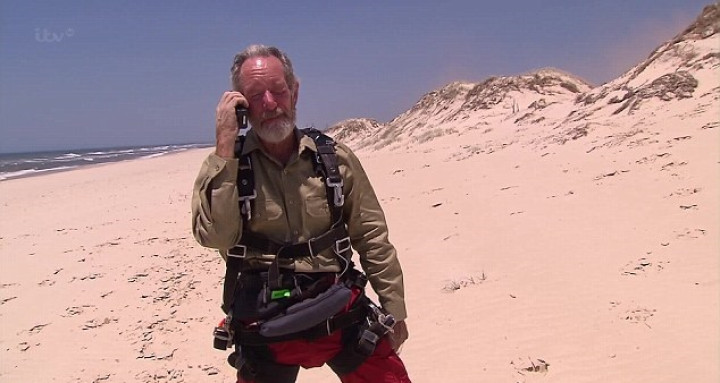 The sports star took on the first bush tucker challenge which required him to be strapped into a drain with the grate closed above him, with 35 pythons slithering all over him for twelve minutes.
Demonstrating restraint and composure to the extreme he even managed to joke throughout the trial. "I feel quite calm but - watch the wedding tackle boys! Get out of my shorts, not there, you slime. I thought racing bikes was hard. They are getting up my bum," he said. "Not tonight boys."
He emerged from the trial unscathed, winning the maximum number of meals for his campmates, only to find a python still in his pants.
His courage in the face of trouser snakes had him trending on Twitter.
Footballer Jimmy Bullard has been voted by the public to face the next bush tucker trial titled the tunnel of terror.
I'm a Celebrity...Get Me Out of Here! continues tomorrow (November 17) on ITV at 9pm.