Filipino tycoon Luis Singson, who has brought the Miss Universe pageant to Manila this year, said he did so to banish the negative news about President Rodrigo Duterte's ongoing war against drugs. The businessman said he wanted to promote the Philippine's tourism through the beauty contest.
Singson acquired Miss Universe Organisation in September 2015 from Donald Trump, who is now the president of the US. The two men are reported to have a lot in common, including wealth, involvement in politics and cologne named after them.
However, when likened to the Republican, Singson said he would not see himself as Trump in the making.
"We're very different," Singson said in an interview with Reuters. "I'm going to give away my money. I don't think Trump can do that."
Singson has served as a provincial police chief in the Philippines and later went on to become a governor of Ilocos Sur province. His company, LCS Group is said to have paid $13m in a one-off deal to bring the beauty pageant to the Philippines.
The competition is scheduled to be held on 30 January to cater to Sunday night (29 January) viewers in the West. Fox network in the US will broadcast the event.
Singson hopes to bash the negative news from his country making international headlines and boost tourism by hosting the event.
"We might lose a little but it's good for our country, good for our business. This is the best vehicle to promote the Philippines," he told Reuters.
Human rights activists had protested last year against the contest, calling to ban the Philippines from hosting the event. Petitions were filed and Filipino women accused Duterte of haivng "sexist attitude" and that hosting the competition in Manila would only serve as a "reward" for his "salacious comments".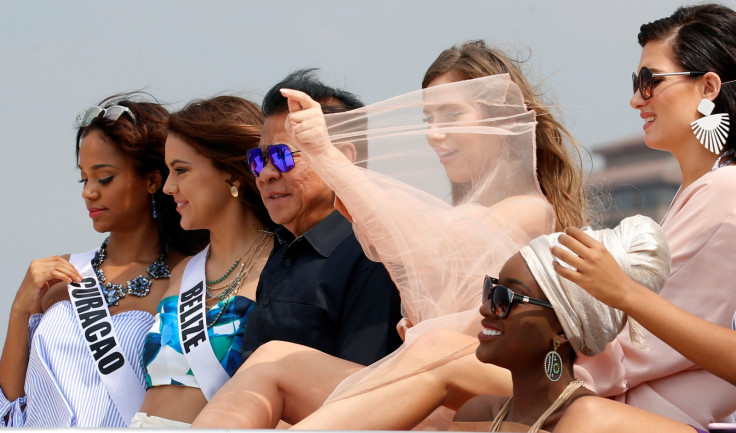 The firebrand leader has also received widespread criticism for his ongoing bloody war on drugs, which is thought to have killed more than 7,000 people since July 2016.
Singson supports Duterte in his anti-drug campaign, and has said the Philippines is "much safer" because of it.
The beauty event even haunted Trump's presidential campaign last year, when his rival Democrat Hillary Clinton criticised him for passing insulting comments about Alicia Machado, former Miss Universe. He called Machado "Miss Piggy" when she gained weight after winning the crown in Trump's 1996 pageant.