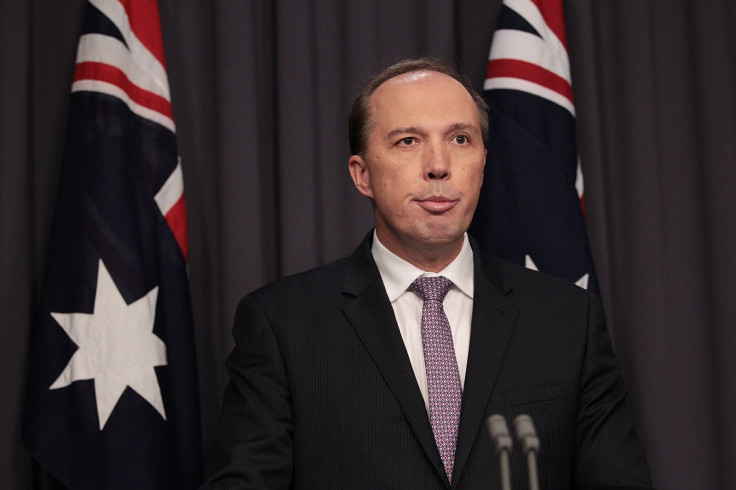 Australia's Immigration Minister Peter Dutton has made media outlets Australian Broadcasting Corporation and The Guardian his most recent targets after their reports on abuse of women and children at the refugee detention centre on Nauru Island created nationwide outrage and earned international criticism. The minister, who according to the reports, was informed of the situation in May, attacked the media for its "slamming of the government".
Speaking to presenter Michael Brissenden on ABC's AM radio programme, Dutton said, "The ABC reporting on The Guardian's reports who report on the ABC's reports do not help people in these centres." When asked about his knowledge of the atrocities for the past four months, the minister deflected the question by bringing up the media again.
"Well again [you're asking me] to comment on the ABC commenting on the Guardian reports," he said. "I'm not going to be defamed by The Guardian and by the ABC because we are doing everything within our power to provide support to people," Dutton added.
He even went on to place the blame on children's advocacy group Save the Children Australia for leaking the cache of documents detailing reports of torture, sexual abuse and violence against migrants on the island.
"We received correspondence from Save the Children – we do on a regular basis. They've leaked the documents, the 2,100 documents that the Guardian's reporting that the ABC now reports on, and we will look at each of those cases," the police officer-turned-politician said.
The aid agency was quick to deny the charges and stated that "claims that we leaked the documents are false". Mat Tinkler, director of policy and public affairs at Save the Children, stressed, "We have respected the terms of our contract with the Australian government, the provisions of the Australian Border Force Act, and the confidentiality of our client that prevents us from speaking publicly about the specific incidents that our staff witnessed in the Nauru detention centre."
As for the claims that the government only has access to the redacted versions published on the Guardian website, Tinkler said they were clearly wrong. "The Australian government receives copies of all incident reports authored by service providers on Nauru as part of their contractual obligations. In addition, representatives of the Department of Immigration and Border Protection were actively involved in coordinating, managing and responding to all critical incidents that occurred in the Nauru regional processing centre," he said.