International law experts have warned a Spanish company, which has taken over the management of Australia's offshore immigration centres, that it could face charges of crimes against humanity. Professors at Stanford Law School reportedly issued a word of caution to Ferrovial, an infrastructure company, whose employees provide services to detention camps on Nauru and Manus Island in Papua New Guinea.
The camps have long been criticised by the UN, human rights groups and lawyers for not adhering to the international humanitarian law in handling its refugees, with several cases of abuse and forced imprisonment being reported.
"Based on our examination of the facts, it is possible that individual officers at Ferrovial might be exposed to criminal liability for crimes against humanity under the Rome Statute," the Guardian quoted Diala Shamas, an attorney at Stanford Law School as saying.
"We have raised our concerns with Ferrovial in a private communication to their officers and directors detailing out findings. We have yet to hear back."
The Spanish corporation that is managing the offshore processing unit since May also has significant shares in Heathrow, Southampton and Glasgow airports and is owned by one of the world's richest families.
The legal warning from the law experts have come in the wake of a new report released by rights group No Business In Abuse (Nbia) on Monday (25 July). The report called for Ferrovial to immediately close all its operations at both the camps saying "even one day of business in gross human rights abuse is too much".
Responding to the allegations, the Spanish firm told the Guardian: "Respectfully, but strongly, we rejected the factual and juridic allegations contained in it."
The multinational company also announced that it would not renew its contract with Australian government once it expires in 2017. However, it argued that many of the abuses detailed by the human rights firm in its report took place before Ferrovial's involvement in the camps and that they do not "run" the immigration centres but merely act as an important services provider. It asserted abiding by human rights law.
The Nbia's report also accused dozens of European and North American banks and investors in Australia's offshore centres who are financially backing Ferrovial. The company took over the management of the camps after buying it from a firm called Broadspectrum.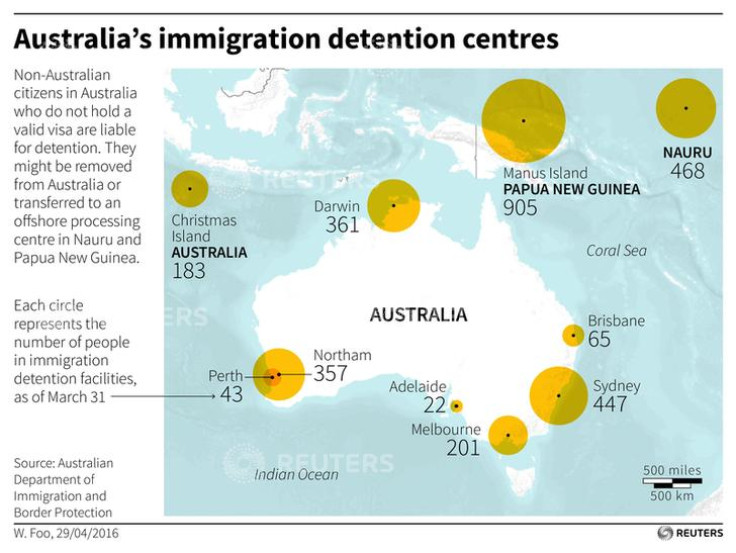 Australia introduced the concept of processing asylum seekers in its offshore detention centres in 2012. Anyone who arrives at the country without a valid visa seeking asylum status is sent either to Nauru or Manus Island in Papua New Guinea.
More than 1,300 men, women and children are being held on the two islands in which reports of abuse, rape and murder have been reported as committed by the authorities. In April, Papua New Guinea's Supreme Court even declared the detention camp as unconstitutional.