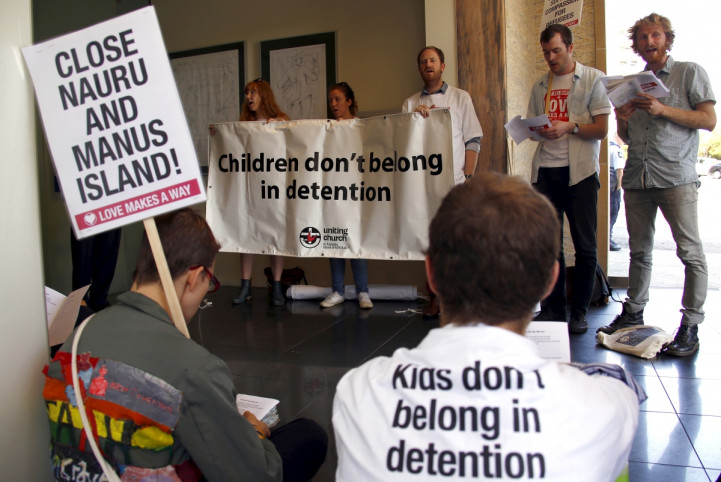 Australia is intentionally ignoring abuse of asylum seekers held in the remote Pacific island nation of Nauru to deter others from making the journey to Australia, two human rights groups have said. Under the immigration policy of the country, people who try to reach the shores of Australia by boat are transferred to Manus Islands in Papua New Guinea and a detention centre in Nauru.
Human rights Watch and Amnesty International have conducted a number of interviews in Nauru and claim that the Australian government condones the abuse there. However, a spokesperson for Australia's Department of Immigration and Border Protection said they have not been contacted by Amnesty International and added she could not verify if Human Rights Watch had contacted them.
The report says that refugees and asylum seekers in Nauru detention centre have been held for almost three years and regularly face neglect by health workers and other service providers employed by the Australian government.
Anna Neistat, senior director for research at Amnesty International, who conducted the interview for the organisation, said, "Australia's policy of exiling asylum seekers who arrive by boat is cruel in the extreme. Few other countries go to such lengths to deliberately inflict suffering on people seeking safety and freedom."
The document based on interviews with 84 refugees and asylum seekers from countries such as Pakistan, Iraq, Somalia, Kuwait, Iran and Afghanistan, claims that the government could not have been unaware of the abuse at the centre. The Nauru centre is run by Broadspectrum and medical care is given by International Health and Medical Services; both the groups have a contract with the government.
When Amnesty and Human Rights Watch approached International Health and Medical Services for comment, they denied that the care in the centre was poor.
Six women in the detention centre reported sexual harassment and assault, including groping, touching, explicit threats and attempted rape. Another woman said that on two occasions local men tried to drive her to the forest when she hitched a ride with them, intending to rape her.
One young woman said she married for protection after being released into the community: "After I left the camp, I felt very unsafe, I could not go out. I decided to marry a man who is 15 years older, just to have protection. If you are alone, everything is a struggle. At least he could go shopping or accompany me. Now he is in the hospital, and I have to rely on my case manager if I need to go out of the house."
The report also alleges that the Nauruan police downplayed or ignored asylum seekers' reports of abuse. However, no evidence was provided in the report to back up the claim of a deliberate government policy.