A Memphis-based prominent imam, due to speak at an Islamic conference in London in November, has strongly rejected claims that he advocates for the death of homosexuals. To burnish his tolerant credentials, he calls for the prosecution of those who try to forcefully implement "Islamic law in our countries and Western lands".
American Muslim scholar and writer Yasir Qadhi made the remarks during an interview with IBTimes UK, following a Daily Mail article and a blog post on Pamela Geller's website expressing concern at his alleged calls for violence.
Geller is an American political activist known for her anti-Muslim rhetoric and opposition to Sharia Law.
"The UK has banned me from entering the country because of my opposition to jihad and sharia and my support for Israel, but the UK government welcomes Islamic hate preachers who call for the murder of gays and 'blasphemers,'" Geller wrote on her website, quoting an article which appeared in the Daily Mail on 16 October.
According to the article, "Qadhi said that to 'kill ... the homosexual – this is also our religion', and that 'to make fun of Allah and his messenger, the punishment is death'".
The same quote was reported in an April 2017 article on the Council of Ex-Muslims of Britain's website. Qadhi, however, denied the allegations, arguing that his quotes might have been part of a longer speech in which he was simply quoting "classical and medieval Islamic law".
"My track record is clear - I have been preaching and teaching Islam and all of its disciplines for over two decades. True, I have evolved in some of my views, as it is to be expected, but I have never in my life called for violence against anyone or any group, and I have never in my life supported extremist and jihadist movements," he told IBTimes UK.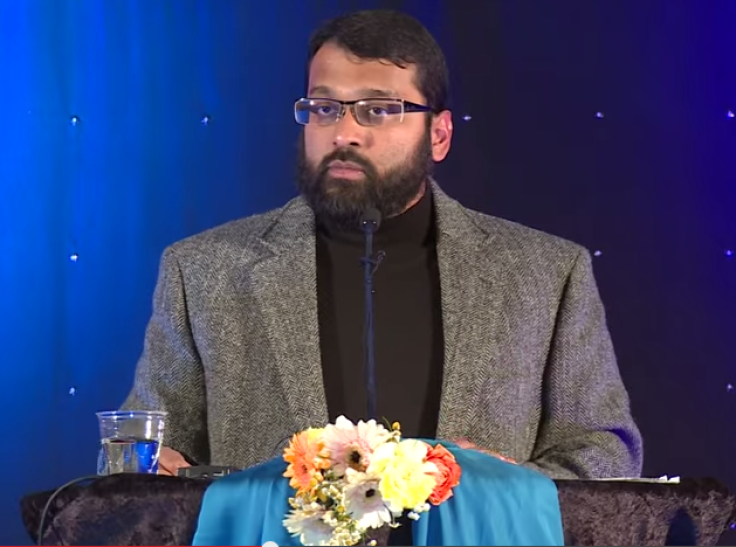 "Classical and medieval Islamic law does have pretty harsh punishments for matters that our modern societies wouldn't find problematic. When someone says, 'The Bible has a verse that calls for those who disobey the rules of the Sabbath to be executed', he is being factually correct," he continued.
"Now, whether he is actually inciting the audience to go kill people for collecting firewood on the Sabbath or merely conveying a fact that his audience should know, depends on the context and the speaker's history and background. So when I quote Islamic law, one needs to see what I mean and what my context is.
"It is not our job or duty or responsibility to implement judicial aspects of Islamic law in our countries and Western lands on other people, and those who do it are mistaken and blameworthy and should be stopped and prosecuted for that."
Qadhi said in a 2009 speech that the way societies looked at homosexuality now, compared to decades ago, meant that these societies "have regressed, not progressed".
However, in a more recent speech in 2016, he said: "Allah will not punish you for the feelings of the heart. The point is what our feelings are in our heart must be controlled. So if a Muslim finds himself or herself having same-sex impulses or attractions we say to them: 'You are no less of a Muslim simply because you feel this way.' If they act upon it, we say to this brother or sister that you have committed a sin."
Qadhi, who co-founded MuslimMatters.org, has been described as one "of the most influential conservative clerics in American Islam". In 2015, the Islamic State (Isis) terror group called for his assassination after the scholar spoke out against the militants.
Al-Maghrib Institute
Qhadi is one of a group of scholars due to take part in panel talks at the ILMFest, an Islamic conference sponsored by the Texas-based Al-Maghrib Institute, in London on 4 November. He is also an instructor at the vanguard of Islamic studies.
The institute has been at the centre of controversies as some of its students have been accused of being involved in terror plots. It also received widespread criticism for continuing to sell - until 2009 - recordings of late radical Muslim cleric Anwar al-Awlaki, a suspected member of Al-Qaeda.
Student Rights, a project of The Henry Jackson Society that calls for "freedom from extremism on university campuses across the UK", expressed concern over the fact that university students had been given leaflets publicising ILMFest.
"This conference will feature extreme speakers such as Omar Suleiman, Yasir Qadhi, Yayha Ibrahim, and Abu Eesa Niamutullah. The Al-Maghrib Institute has a shameful record of promoting speakers with intolerant and extreme views," Students Rights said.
Richard Black, Research Manager of Student Rights, told the Daily Mail that British universities should do more to protect vulnerable people.
"Universities should make more rigorous checks to make sure extremist and inappropriate material does not target young and potentially vulnerable people," he said.
However, a spokesperson for Al-Maghrib rejected the allegations and told IBTimes UK that the institute was involved in anti-terrorism initiatives.
"The Instructors at Al-Maghrib have a track record of countering extremism and promoting a path of moderation in all aspects of life," Navaid Aziz said.
"As for the allegations of killing homosexuals then this will usually be a result of cutting and pasting what one wants to hear. There are certain books in the Islamic jurisprudence discourse that may promote such atrocious acts but this is certainly not the position held by our instructors.
"In fact our instructors promote values of the sanctity of all human life, and living as respectful contributing members of the greater society," he continued.
"Our instructors are only human and from time to time will make a poor choice of words. However, this is by no means sourced in malicious or evil intent or extremist ideology. This is seen by how willing they are to clarify their statements and teach mainstream Islamic values that oppose those very allegations," he concluded.