An organisation calling for Western colonial powers to pay reparations to their African former colonies has welcomed the increasing international pressure on Germany over its bloody massacre in its former south-west African colony of what is now Namibia.
The massacres of the Namibian tribes became known as the first genocide of the 20th century, after an estimated 24,000 to 100,000 Herero and 10,000 Nama died at the hands of the Germans. In January, Herero and Nama filed a class action lawsuit to get collective reparations and the right to be present at the ongoing negotiations between the German and Namibian governments.
Besides the identification and creation of memorial sites, the restitution of victims' remains and the mobilisation of collective memories, the bereaved are demanding reparations and the return of lands subtracted during the colonial period.
Organisation Colonialism Reparation on 18 May said it was pleased with progress made after the Evangelical Church in Germany asked descendants of the victims of the genocide for forgiveness.
According to the organisation, the move is the result of "increasing international pressure" on Germany and Namibia.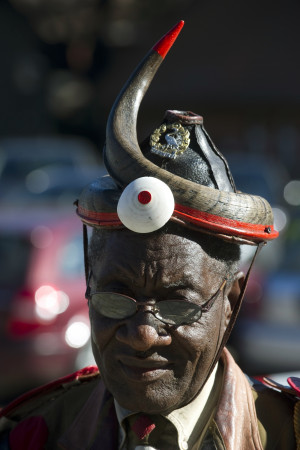 At the end of a seven-day visit in Germany in February, the United Nations' Working Group of Experts on People of African Descent urged "Germany to recall its own share in the history of colonisation, enslavement and genocide and use a reparatory justice approach as a way forward".
A month later, Namibian media reported that the Namibian Government was looking into a legal action against Germany at the International Criminal Court, with the assistance of a group of Namibian and British lawyers. According to the reports, the claimants may request $30bn in reparations for the Herero and Nama genocide.
On the same day, Namibian President Hage Geingob reiterated his will to accelerate the pace of land reform by expropriating lands still owned by whites.
Tanzanian Defence Minister Hussein Mwinyi in February said his government would also press Berlin for compensation for tens of thousands of people who were allegedly starved, tortured or killed by German soldiers as they tried to put down the tribal Maji Maji rebellions, between 1905 and 1907.
For more than a century, atrocities committed before or during European rule have been largely forgotten, but Germany's new policy could set a precedent for Belgium and the Democratic Republic of Congo, France and its former colony Algeria, or Great Britain and its former African territories.
In 2013, the UK, for instance, cautiously offered "sincere regret" to some 5,000 Kenyans jailed and tortured by British colonial forces during the UK's crushing of the Mau Mau uprising in its former colony. Thousands were killed during the revolt against British rule.
For the first time, the government agreed to issue £2,600 each to the abuse victims – though not to their descendants – with payouts totalling £20m.