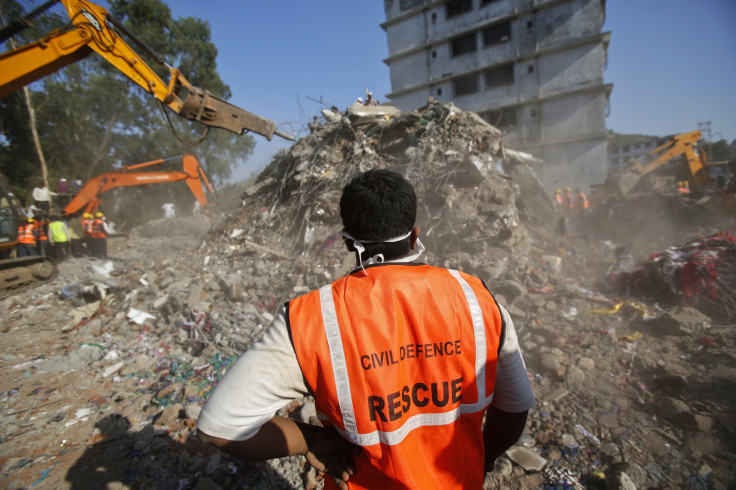 At least 12 people were killed and several injured when a 50-year-old building collapsed in the Thane area of India's financial capital Mumbai, putting the spotlight on the housing crisis there.
Rescue efforts are going on to save those trapped under the rubble. Five families were inside the three-storey building when it came down.
Earlier this year, authorities had issued a notification for the building to be vacated, because of its poor condition.
In a heart-rending incident, one victim who managed to save five people, lost his own daughter.
"My daughter Priya sleeps with me. But yesterday she slept with her mother, Asha. I was fast asleep when the building collapsed. Three of my staff Shankar Meena, Mohan Meena and Ramesh Meena screamed and I rushed to them. Somehow, I managed to save them and rushed to my wife and daughter. I tried to pull my wife and managed to rescue her from the debris," said Amrut Lal, 37, according to the Indian Express.
Lal, who is being treated at a hospital added: "But as I rushed for Priya and tried to pull her hand, some portion of the building fell on my head and I missed her hand. The rescue team came and rescued me from the debris but by that time, I had lost Priya. I was later told that Priya is no more."
A similar incident in Thane's Thakurli neighbourhood killed nine people only a week ago.
"In such buildings built under the pagri system of rent, the owner is reluctant to put his own money and carry out repairs. The owner waits for his tenants to vacate the building so that he can get it redeveloped and make profit. The government must urgently conduct a survey of such buildings," said regional lawmaker Jirendra Awhad.