England have beaten India in the third Test at Eden Gardens in Kolkata, to take an unbeatable 2-1 lead in the four-match series. The hosts need a win in the final Test in Nagpur, in order to avoid a first home series defeat in four years; they were beaten 2-1 by Sri Lanka in 2008. The fourth test starts on 13 December, in Nagpur.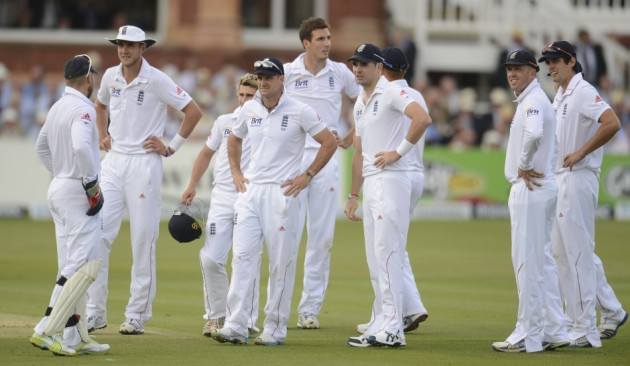 Play resumed on the day with the hosts' second innings at 239/9, with Ravichandran Ashwin and Pragyan Ojha at the crease. The last pair managed 42 crucial runs to close out the fourth day, frustrating Alastair Cook and his men and ensuring MS Dhoni would not face the added humiliation of an innings defeat.
However, it was only ever going to be a matter of time before that last wicket fell and eight runs later Ojha (3) was bowled by James Anderson (3/38) without adding to his overnight score. Ashwin (91 not out) was the sole Indian, really, to provide any sort of resistance to the English onslaught, apart from the openers - Gautam Gambhir (40) and Virender Sehwag (49) - and yet again questions must be asked of India's batting line-up and particularly of Sachin Tendulkar's continued selection. The veteran did hit a critical 76 in the first innings but has otherwise failed to come good this series and surely time is running out on the legend's career.
Credit must once again be given to Monty Panesar, who was recalled from the second Test on and has since established himself as one of the key, if not the key, performer in Cook's squad. The turbaned left-arm spinner finished the second innings with 1/75 and the match with 5/165; his series figures so far - 16/375. Steven Finn was also in fine form, picking 3/45 and Graeme Swann chipped in with 2/70 to complete a team bowling effort.
Cook and Nick Compton walked out with 41 to win and most of the day to score them in. It should have been a stroll in the park for a man with three centuries in his last four innings. However, an overly eager Cook (1) misread Ashwin and jumped out of his crease only to be beaten in flight and stumped by a delighted Dhoni. Still, at 4/1, with only 37 more to get, it should have been easy. In came Jonathon Trott (3). But he too departed swiftly, caught plumb in front by Ojha after feeling for a turn that never quite materialised.
With the score at 7/2, there was suddenly a buzz around Eden Gardens. Could India pull off the impossible? They certainly gave notice, dismissing Kevin Pietersen (0) with the score still in single figures. Fortunately for nervous England fans, Ian Bell, the next batsman in, was in no mood to mess about and he bludgeoned 28 from 23 balls, including four boundaries off Ashwin and an over that fetched 11 runs.
England finished at 41/3, with Bell (28 not out) and Compton (9 not out) at the crease. For India, the brief ray of hope by opening both ends with spinners paid only partial dividends. But in reality Ojha and Ashwin were set an impossible task and a majority of the blame for the defeat must lie with the batsmen, for a particularly poor second innings.