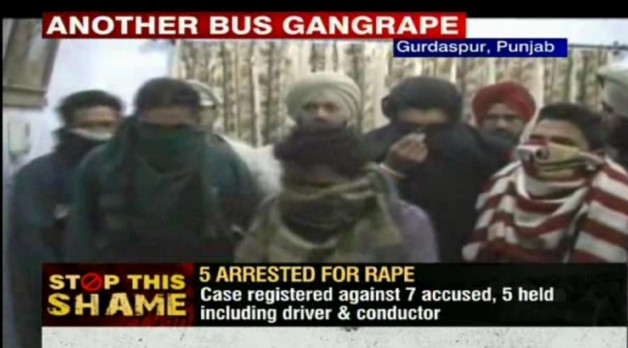 Six men have been arrested in India after the second alleged gang-rape of a female bus passenger within a month.
The attack, in the northern state of Punjab, comes just weeks after the death of Joyoti Singh Pandey, 23, whose rape triggered nationwide protests against violence towards women in India.
The 29-year-old victim was returning to her family's village when she was taken by motorcycle to a secluded spot and attacked by the bus driver, the conductor and five other men.
The victim, a mother of two, reported the allegations to police in the town of Kahnuwan, saying she had boarded a bus to the village of Gukla on Friday. She was then kidnapped and forcibly taken by motorbike to Gurdaspur, another village 260km from the state capital, Chandigarh.
"They threatened me with a sharp-edged weapon and did wrong things with me," the victim told CNN-IBN, whose report (pictured above) was broadcast before a sixth man was arrested. "They kept me confined all through the night and forced me to do what they wanted."
The two suspects were then joined by five others, who subjected her to a night of attacks before dumping her in a village on the morning of Saturday 13 January.
Raj Jeet Singh of Punjab police, said: "Six men have been arrested on allegations of having raped a 29-year-old woman after forcibly taking her to an unknown location on the night of 11 January. The lady, after being kidnapped, was raped brutally throughout the night by the seven accused.
"One of the accused dropped her near her in-laws' house the next morning, where she narrated the whole incident to her two sisters-in-law."
Four of the suspects were named as Daler Singh, Jaswinder Singh, Jagpreet Singh and Satwant Singh, while another two were identified only by the names Ravi and Gora.
Medical examinations have confirmed that rape took place, but police raised further controversy after commenting that the "mentally weak" victim had not resisted the attack.
A seventh suspect is being hunted in connection with the incident.
"All have been booked for rape," an officer with Punjab police told the Indo-Asian News Service. "Raids are being conducted to arrest the last one."
A wave of anger and grief in the aftermath of the Jyoti Singh case has led to widespread calls for the suspects to be hanged.