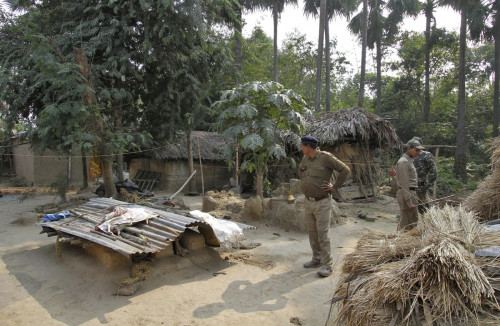 Men in the eastern Indian village where a woman was allegedly gang raped are reportedly on the run after trying to stop a police raid on the village.
As many as 13 suspects are believed to have been arrested for the violent assault on the 20-year-old woman, who wanted to marry a married Muslim man from a different village.
A police raid on Subalpur village, West Bengal, was foiled by villagers who tried to block any investigation, forcing police to call in reinforcements.
Men from the village had tried to stop the woman from lodging a police complaint, surrounding her house and threatening her with further violence.
"Members of the village council threatened her with dire consequences if she lodged a complaint with the police," Kazi Mohammad Hossain, senior officer at the district police station in Labphur, told AFP.
"The villagers surrounded her house but on Wednesday afternoon she managed to escape and came to the police station to file the complaint. She was limping and bleeding."
Villagers do not appear to be showing any remorse for this latest horrific incident to shake India, as they continue to claim that the victim had "dishonoured" her community.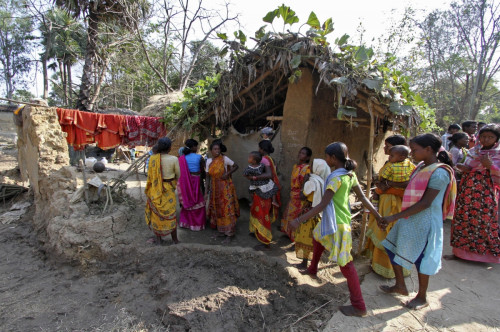 "She may have been raped but of what I gathered she was warned ahead by the womenfolk of the village against living with a man from another community without marrying," Nityananda Hembram, a senior leader of a tribal community in Bengal, told Reuters.
Women Defend Their Men
The women in the village have issued a strong defence of their men, insisting that they have been "trapped in a conspiracy", according to the Times of India. The women said that they had tried to stop the police from entering the village to arrest the suspects and blocked journalists, to "stop them from demeaning their culture".
Children and the elderly have also expressed their solidarity with the alleged rapists. They insist the girl had to be punished because she was "caught in a compromising position with a married man of another village".
"Some of our boys rounded up the duo and brought them to the village. We tied them up but didn't ask our men to rape her, nor did we demand money," a mother of four said.
"Our men are innocent. Why are police interfering in our daily lives?"
None of the remaining villagers admitted to witnessing the alleged rape.
The victim and her lover met while working on the village's school building.
"It is this under-construction school that has brought shame to our village. It's here that the two met. She has brought disrespect to our community," said a woman whose husband has been arrested.