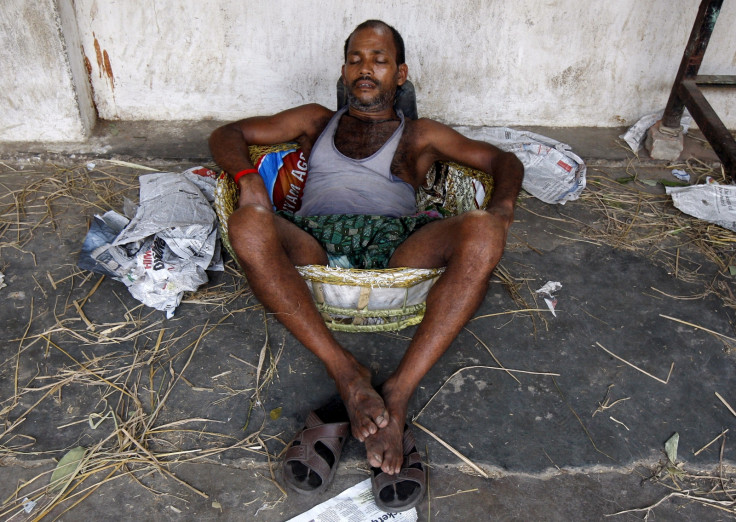 With temperatures soaring close to 50C in parts of northern and central India, the death toll in the heatwave has passed 1,000.
In the state of Andhra Pradesh alone, authorities say 852 people have died while over 250 lives have been claimed in neighbouring Telangana, according to media reports.
Khammam in Telangana touched 48C on 23 May, the highest in the past 68 years.
The hot conditions are expected to last a day or two more with the south-west monsoons expected by end of the month expected to result in a drop in temperatures.
Media reports spoke of melted roads in the city's capital where the mercury has touched 46C in the last couple of days.
Severe heatwave conditions prevailed over many parts of coastal Andhra Pradesh. Humidity worsened the stress caused by excessive heat.
The meteorological department has issued red alerts for Odisha, Jharkhand and coastal Andhra Pradesh, where heat conditions are worsened by constant dry, sweltering winds.
Most parts of northern India saw temperatures averaging 45C. Agra, where the Taj Mahal is situated, saw temperatures of 46.1C.
The unseasonal rainfall seen in many parts of India during the past two months is being blamed for the high number of deaths. The intervening rains did not allow for the usual gradual rise in temperature.
The sudden high temperatures disturbs the defence mechanism of the body, according to doctors. The intense heat can cause cramps, exhaustion and heat stroke.
Water camps have been set up in Andhra Pradesh and Telangana and oral rehydration salts and intravenous fluids made available at bus and railway stations.
Various reasons are being cited for the unusually high temperatures. The IMD has blamed it on the hot winds blowing in from Pakistan's Sindh province.
El Nino conditions that transfer heat build up from oceans to the atmosphere and triggers scorching weather across land could also be the reason, say experts.
The US National Oceanic and Atmospheric Administration has predicted a 60% chance the El Nino conditions will continue longer.
However, Indian climate expert J Srinivasan speaking to IBTimes UK notes the 0.8 degree warming during the past hundred years will set off more heatwaves, even without an El Nino.
Severe heat waves are becoming increasingly frequent globally. Human-induced global warming had turned 2014 into the hottest year on record, while records were broken with 2015 with this year's March being the hottest.
A Potsdam Institute for Climate Impact Research study on megacities has predicted Hyderabad in Telangana, which now sees a maximum of five heatwave days a year, could soon see as many as 40 days per year.
The study was made on the basis of global carbon emissions.