A Muslim politician was attacked by Hindu assembly members for hosting a "beef party".
Engineer Sheikh Abdul Rashid was assaulted when he walked into the Legislative Assembly House in Jammu, close to the border with Pakistan, and had to be rescued by members of the opposition National Conference and Congress. Footage of the incident was broadcast on television news channels across India, showing the moment BJP members caught hold of Rashid and beat him.
The beef row first began when the High Court in Jammu ordered the state to implement strict beef bans in the Muslim-majority state. Rashid is said to have hosted a beef party in the hostel for Members of the Legislative Assembly (MLA), where guests were served snacks containing beef.
Rashid insisted that the party was not meant to offend anyone but that it was a sign of protest against legislation that attempts to "stop us from having what we want to have" and "prevent the people from eating what they want".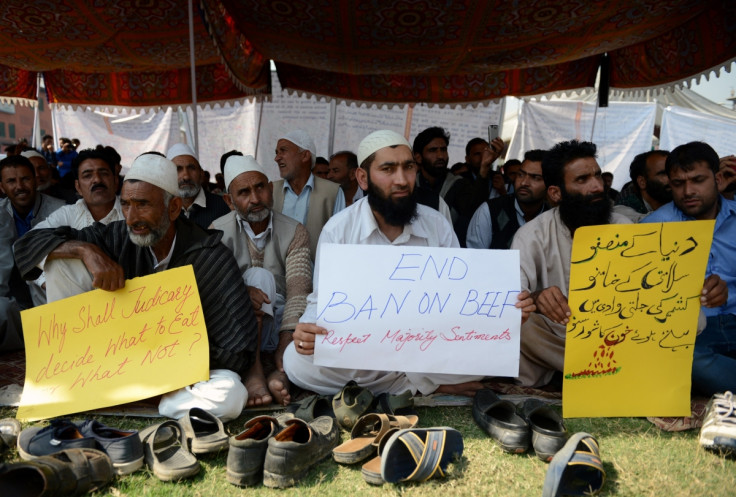 National Conference leader Omar Abdullah and chief minister of Jammu and Kashmir Mufti Mohammed Sayeed condemned the attack, likening it to the "Dadri lynching", which saw a mob beat an Indian farmer to death for eating beef.
Addressing BJP members, Abdullah said: "If we had not rescued him, you would have killed him. It was done in same way as done in Dadri." The opposition, including the National Conference and Congress Party, both walked out of the House to condemn the incident and only returned once they were told that the BJP government would apologise for the incident.
On morning of 8 October #BeefParty was trending in India on Twitter as people took to Twitter to weigh into the debate. While many reacted in shock to the assault carried out by BJP legislators in a professional setting, others were quick to condemn Rashid's beef party and said that he was being "provoking".
BJP leader and deputy chief minister Nirmal Kumar Singh later addressed the House and condemned the incident, but also said that the organisation of the beef party had been "wrong". The beef ban issue had now been put forward to the Supreme Court as National Conference leader Abdullah said it was "impossible to digest" what had happened.
"An honourable member being assaulted in the House," he said. "It seems that they wanted to murder him. If he had done anything objectionable that should have been put on record." Abdullah also addressed the issue of the beef ban saying that as a Muslim he doesn't force his religion on others and doesn't assault anyone who eats pork or drinks alcohol.