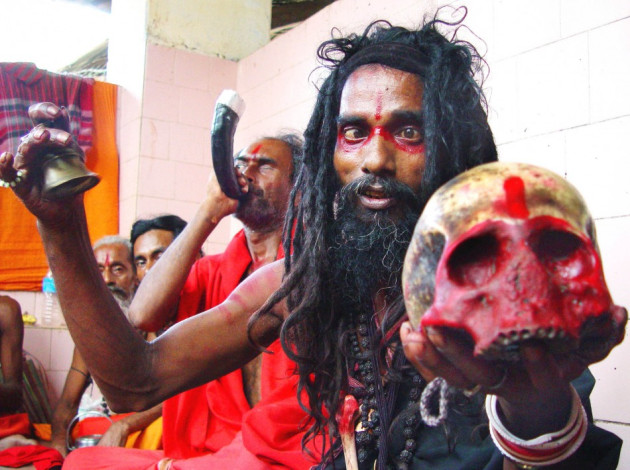 An Indian state has banned black magic a day after a prominent atheist activist who supported the ban was murdered. The bill to outlaw occult practices had languished for eight years before it was suddenly enacted.
Narendra Dabholkar was shot dead by two gunmen on motorbikes in Pune city. He had campaigned for a law to ban black magic for years.
A state official said that a temporary law would be put in place until full approval by the state assembly made it permanent.
The Maharashtra Prevention and Eradication of Human Sacrifice and Other Inhuman, Evil Practices and Black Magic Bill is aimed at preventing black magic practitioners exploiting vulnerable people.
The legislation is expected to make it illegal to beat a person during an exorcism or to raise money by claiming to be able to perform miracles.
Dabholkar founded the Committee for the Eradication of Blind Faith 20 years ago and encountered resistance from Hindu nationalists who said the law would stifle religious freedoms.
Protests in Pune
In an AFP interview two years ago, Dabholkar said the bill would not oppress religious believers.
"In the whole of the bill, there's not a single word about God or religion," he said. "The Indian constitution allows freedom of worship and nobody can take that away. This is about fraudulent and exploitative practices."
Up to 90% of Pune's businesses and shops closed down in protest on news of Dabholkar's murder. Protests were also held in Mumbai.
Police chief Gulabrao Pol said there had been no progress in fidning Dabholkar's assailant.
Dabholkar, thought to be 69, was cremated 100km from Pume in his hometown of Satara.
Sanal Edamaruku, who also campaigned for the bill, said the original legislation had been "diluted" by a number of special interest groups.
"The original form was very powerful and would have been very useful," he said. "[People] should take inspiration [from Dabholkar]."
Maharashtra's chief minister, Prithviraj Chavan, who attended Dabholkar's funeral, said his murder was akin to the assassination of Mahatma Gandhi.
He told NDTV: "The way Gandhi's voice was suppressed, the same way Dr Narendra Dabholkar's views and its power were killed by people who did not agree with it. The government will find out the killers."