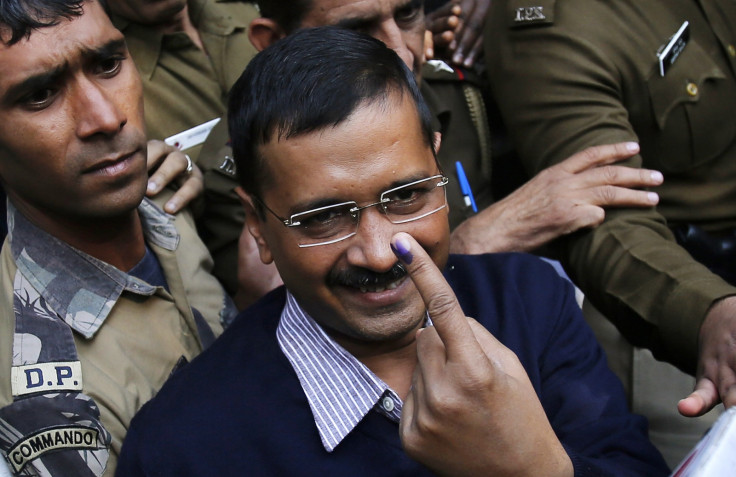 India's ruling Bharatiya Janata Party (BJP) is predicted to face defeat in the Delhi elections which were seen as a litmus test for Prime Minister Narendra Modi's popularity.
Ahead of the official results on 10 February, early exit polls give a lead for the Aam Aadmi Party (AAP), or Common Man's Party, spearheaded by activist-turned-politician Arvind Kejriwal.
In a bid to beat the AAP challenge, the BJP picked former police officer Kiran Bedi, India's first female top police officer, and projected her as the chief ministerial candidate.
That does not seem to be making any difference to the electoral fortunes of the BJP.
According to multiple exit polls, the AAP is predicted to bag more than half the 70 seats in the Delhi assembly enabling it to form the government.
The voter turnout has been put at a record 60% which is is said to favour the AAP.
The exit polls were conducted by television channels but their exact methodologies were not immediately revealed. The polls have a poor track record.
The AAP had formed the government after winning 28 seats in an earlier election with the support of the Indian National Congress (INC), but the arrangement fell apart after 49 days.
Kejriwal is already scenting victory, hailing the exit poll results for rejecting "the politics of caste and religion".
The BJP's Bedi tweeted: "This [exit polls] based on data till 3pm. Let us not accept it as final."
Addressing a press conference, she said: "The surveys I have seen so far are at 3 pm. Between 3 and 6 pm, large numbers of people who came in that time have not been accounted for. We should wait till 10 February 10. I am confident that it will be positive for the BJP. I am confident that it will go in BJP's favour."
If the AAP wins a majority in the Delhi polls, it will be seen as a setback for Modi, who rode on an anti-incumbency wave in last year's parliamentary election.