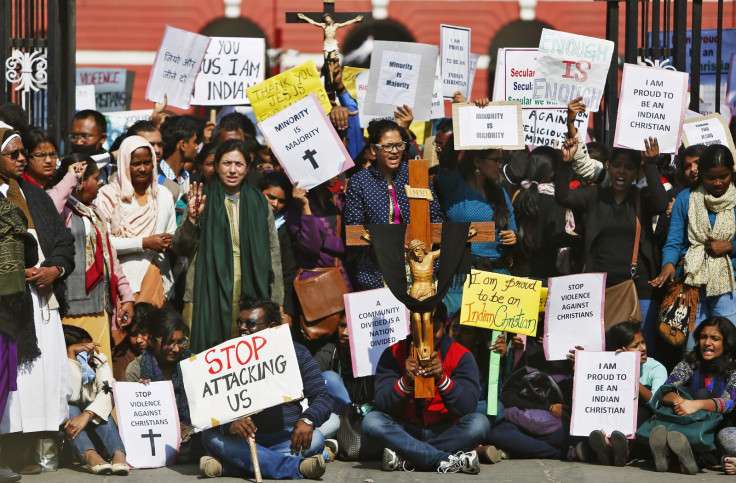 Security has been beefed up in churches after a spate of attacks, sparking clashes between Christian protesters and police personnel in the Indian capital Delhi.
Police are reviewing security measures as the city is also gearing up for key election in which the Bharatiya Janata Party (BJP), the federal ruling party, is pitted against the Aam Aadmi Party (AAP).
The run up to the election has seen at least five incidents of church attacks.
The latest was on St Alphonsa's Church earlier this week.
Scores of Christians took to the streets in Delhi after the attacks, which Christian groups say, are the result of government inaction. The protesters included nuns, priests and activists.
Many demonstrators were detained when they tried to take out a march to the Indian home minister's residence on the grounds that they had not taken permission.
However, the activists maintained that the arrests were made shortly after they began their march outside the Sacred Heart Cathedral in central Delhi.
Delhi Archbishop Anil J T Couto was quoted as saying by The Hindu that the attack "reflected on the government and its failure to give protection to minorities and their religious structures".
Authorities dismissed the St Alphonsa's attack as a case of petty theft.
Assuring security, Delhi police commissioner, B S Bassi, said: "We are always ready to protect the places of religious worship. A delegation met the Home Minister [Rajnath Singh] after which he directed me to make tight security arrangements at the places of worship, especially churches. For that, we have further improved our security arrangements. The patrolling has also been increased at required places."
The authorities have assured that they will not be partial while dealing with religious violence.
Bassi added: "Special security plans have also been worked out for the upcoming festival of fasting, wherein our Christian brothers and sisters fast for 40 long days, so that no individual or group faces any problem in their religious proceedings."