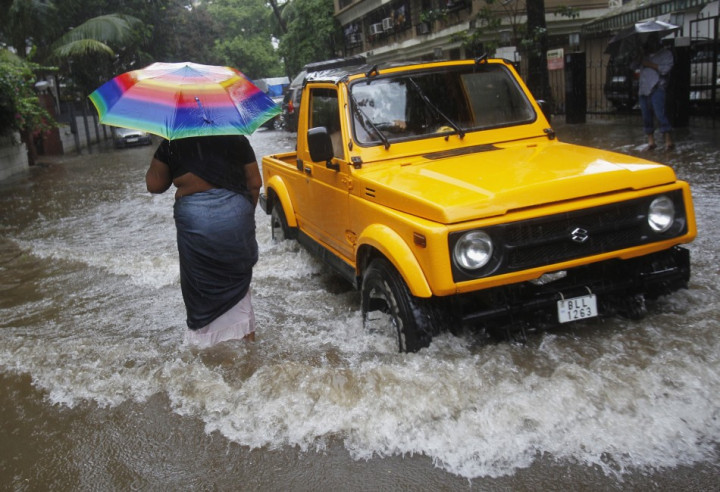 At least 23 people have been killed in Monsoon-related incidents in the northern Indian state of Uttarakhand as flooding and heavy rain continue to wreak havoc.
In the town of Uttarkashi, several people died as a three-storey building was washed away by floods, authorities said.
Video footage posted on YouTube shows the building crumbling before collapsing into a river's swift-moving current.
"The situation is very grim. The meteorological office has predicted that the rain will continue for another three days at least," said government spokesman Amit Chandola.
Heavy downpours triggered a landslide that buried and killed four people in Uttarakhand's Almora district. Five members of a local family, whose house was swept by the slide, are missing.
More than a dozen people died in floods in the Rudraprayag district and another 50 are unaccounted for.
Thousands of pilgrims heading to Hindu religious sites in the region, near the Chinese border, were stranded along a mountain pass as landslides blocked roads and a number of bridges collapsed.
Rescuers were using helicopters to evacuate the area, while army and paramilitary troops joined efforts to rescue scores of people from the rooftops of their flooded homes.
State authorities were setting up relief camps to accommodate people evacuated from the worst-hit districts.
Rivers breached their banks across the Udhampur district and in the Hindu holy city of Haridwar, and authorities issued high alert and flood warnings.
The seasonal monsoon hit Kerala in the south of the India on time last week. It then quickly swept northwards and has now covered the whole country a month ahead of schedule.
Monsoon downpours account for 70% of India's annual rainfall and are critical to the country's farming output.