Mumbai police are considering introducing "no-selfie" zones near tourist attractions after a tragic incident near a popular beauty spot which left at least one person dead.
The move follows an accident on 9 January when a man drowned as he tried to save an 18-year-old girl who had fallen into the Arabian sea from some rocks near Bandra Bandstand, in the north of the city, while taking a photo of herself. She fell in with two friends and 37-year-old Ramesh Walanju, jumped in to help save the trio.
But he only managed to pull her two friends out of the water before he was washed away by the sea. His body was found floating in a nearby creek two days later while the girl is still missing.
Now deputy commissioner Dhananjay Kulkarni has said that the spot should be labelled as dangerous and his officers have been advised to warn the public about the dangers of attempting selfies. He said according to Al-Jazeera: "After the unfortunate incident, we have decided to identify 16 spots where taking selfies can be dangerous - but we may add more.
"We have written to the municipal corporation to put some warning signs up at such points. We also want them to deploy some lifeguards." Kulkarni said that if these precautions do not work then no-selfie spots could be the answer.
In July 2015 Russian police published a guide to taking selfies more safely due to an increase in the number of people killed or hurt while taking them. "A cool selfie could cost you your life," the interior ministry warned in a pamphlet packed with tips such as "a selfie with a weapon kills".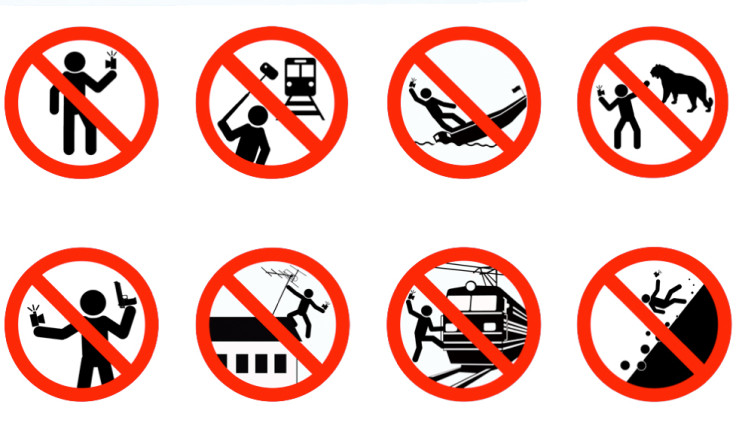 At least 12 people were reported to have died around the world in selfie-related accidents last year. One example included a Japanese tourist who died after falling down stairs while trying to take one at the Taj Mahal.
And in January 2015, three Indian students were killed by a train after attempting to take selfies. The trio, all in their twenties, were also heading to the Taj Mahal from Agra.