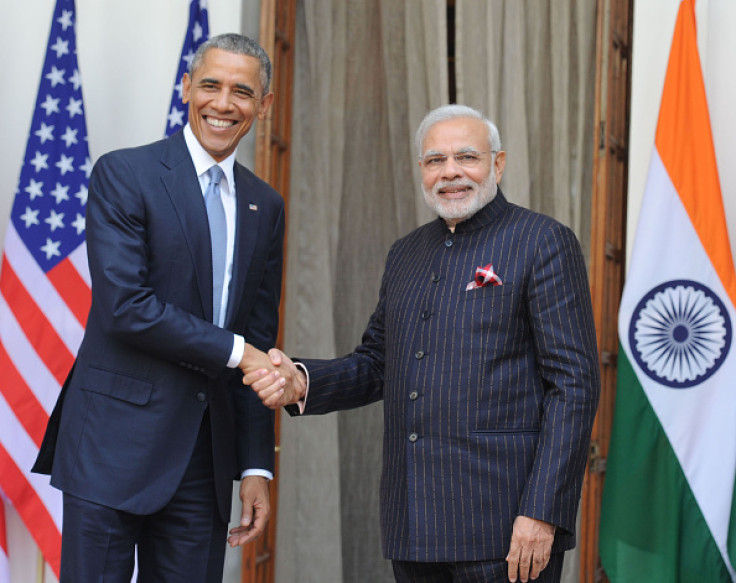 Indian Prime Minister Narendra Modi has attracted a lot of social media criticism after he was seen wearing a pinstripe suit with his full name woven all over it.
PM Modi wore the blue pinstripe suit at the Hyderabad House in New Delhi on Sunday (25 January) during a banquet hosted by President Pranab Mukherjee in honour of US President Barack Obama.
The pin stripes were not simple lines but rather his name 'Narendra Damodardas Modi' intricately woven into the fabric over and over again to form the stripes.
Ouch! A narcissistic suit! The suit that Modi wore to meet Obama had gold-embroidered letters spelling out his name. pic.twitter.com/XBBMTRgJum

— Brahma Chellaney (@Chellaney) January 26, 2015
Modi's suit. Fabric: Holland & Sherry (UK). Tailor: Tom James. Gold thread with this name on it. Total bill: £10,000. pic.twitter.com/Q3FD2Ontbq — Vijay Prashad (@vijayprashad) January 27, 2015
A designer, who preferred not to be identified, said: "The name on the suit was not embroidered but hand-woven. It requires a special jacquard technique, and the cost is anything between Rs 80,000 and Rs 5 lakh, depending on the fabric.
"This personalized textile is the in-thing... Burberry to Hermes, all are doing it."
Bipin Chauhan, owner of Jade Blue – the chain of garment stores that stitched Modi's famous pinstripe suit said, reported Times of India: "The suit was stitched from a suit length especially woven for the PM. Modiji is a fashion icon and this was a homage to his strong personalized style of functioning and power dressing."
While social media users weren't too impressed with Modi's choice, President Obama was clearly mesmerised.
Raising a toast to Modi, Obama reportedly said at the banquet that he too wanted to wear a 'Modi kurta', reported Times of India.
Social media reaction was scathing about the 'Modi kurta':
"Maybe... maybe he was afraid that someone would steal his clothes?" - Mom, trying her best to explain Modi's vanity-striped suit.

— Suprateek Chatterjee (@SupraMario) January 26, 2015
When Modi met Obama, his name was all over - his suit http://t.co/lBtNXmBgsg — Reuters India (@ReutersIndia) January 26, 2015
What the Indian media failed to get was the sarcasm in Obama's remark when he said "I wanted to wear modi kurta." #TheObamaVisit

— ETHICAL STALKER (@PsychographEd) January 27, 2015
Keeping company MT @AgnesBun Narendra Modi isn't the first. Hosni Mubarak also wore a suit with his own name on it. pic.twitter.com/HuigeWHfZ6 — Hasan Zaidi (@hyzaidi) January 27, 2015