India's capital will turn into a virtual fortress for US President Barack Obama's visit this weekend. Prime Minister Narendra Modi, Obama and other dignitaries from the world's two largest democracies will attend Republic Day celebrations on January 26, which include a military parade and display of weaponry.
A no-fly zone with a radius of 400 km will be established, covering cities such as Jaipur and Agra, and extending to the border with Pakistan.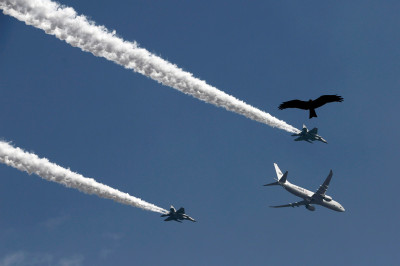 On-the-ground security has been beefed up, with extra police patrols and checks at metro stations. Snipers will be deployed at more than 70 high-rise buildings around central Delhi.
Obama will be accompanied by First Lady Michelle Obama on his three-day trip and is expected to travel in 'The Beast', his heavily-armoured limousine. They plan to tour the Taj Mahal.
It may not rain on Obama's parade, but, judging by the smog and fog cloaking the Indian capital during rehearsals over the past few weeks, visibility could be a problem.
In 2010, the event was wreathed in thick fog that obscured the view for the guest of honour, the then president of South Korea.