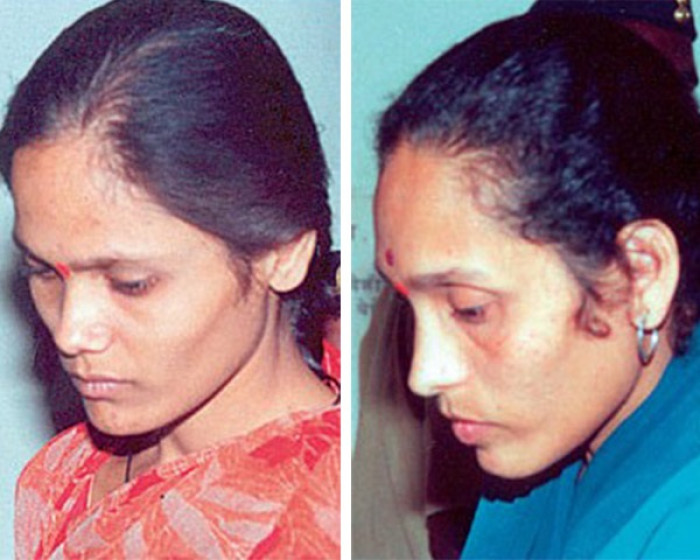 Two Indian sisters sentenced to death in 2001 for kidnapping 13 children and killing nine of them may be the first women to be hanged in the country, after their petition for mercy was rejected by President Pranab Mukherjee.
Renuka Kiran Shinde and her sister Seema Mohan Gavit, from the city of Kolhapur in south-west Maharashtra state, were found guilty of kidnapping children and forcing them into begging, assisted by their mother Anjana Bai.
The pair were also convicted of killing nine of the children, aged between one and five years, after they feared they would turn against their captors as they grew older.
Shinde and Gavit are being held in Yerwada prison in Pune, while Bai died during the trial. The father of the sisters, Kiran Shinde, turned into an approver in the case and was later acquitted.
President Pranab Mukherjee late last month rejected the sisters' mercy petitions, the Times of India reported.
Deepak Jadiye, head of the Monitoring and Evalution Unit of the Maharashtra State Home Department, said no rejections had been received regarding the sisters' death penalty.
Jadiye told the Mumbai Mirror: "We have informed the two convicts, their relatives, the legal remedial cells of the Supreme Court and also the District Court about the rejection of their mercy plea."
The number of executions that have taken place in India since the country's independence is disputed.
Government estimates claim that it stands at 52 people, yet research by the People's Union for Civil Liberties indicates that the actual number of executions is much higher, with 1,422 executions between 1953 and 1963 alone.
There is no record of any women being executed in the country. There are currently 24 convicts on death row in Maharashtra.