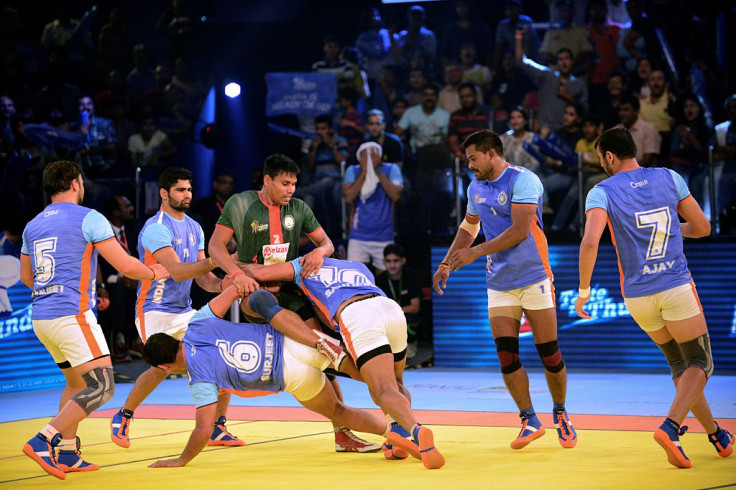 India will take on England in the 21st match of the 2016 Kabaddi World Cup at the Arena by TransStadia in Ahmedabad, Gujarat. These two sides are pitted in Pool A and the clash on 18 October will be the last fixture for both the sides.
With five wins in five matches, South Korea have sealed a berth in the last four. Anup Kumar's side are second in the table with 16 points after four games and are a win away from making it to the semi-final of the tournament.
Bangladesh are third in the table with 11 points, while England are fourth. The English side's hope of qualifying for the next stage is only possible if they beat the defending champions by a massive margin and also gain an extra point.
Should they manage to achieve it, they will also hope that Bangladesh avoid a win against Argentina in the last Pool B match of the tournament. However, a defeat for England on Tuesday will end England and Bangladesh's chances and India will seal a berth in the semi-final of the Kabaddi World Cup.
Where to watch live
The match starts at 4.30pm BST/11.30am EST/9pm IST. Sky Sports will provide coverage of the match in the United Kingdom, while Star Sports in India are the official broadcasters of the 2016 Kabaddi World Cup. Live streaming will be available on the Sky Sports' website in the United Kingdom and Hotstar in India.
TV Guide
United Kingdom: Sky Sports
India: Star Sports
India of America: Fox Sports
Canada: CBN
Saudi Arabia: OSN Sports
Squad
India: Anup Kumar (Captain), Ajay Thakur, Deepak Niwas Hooda, Dharmaraj Cheralathan, Jasvir Singh, Mohit chillar, Manjeet Chhillar, Pardeep Narwal, Sandeep Narwal, Surendra Nada, Rahul Chaudhari, Surjeet, Nitin Tomar, Kiran Parmar.
England: Someshwar Kalia (captain), Akash Sood, Keshav Gupta, Jay Depala, Joshua Enson, Mason Dhani -Ali, Meredydd Rix, Nikesh Farmah, Pavan Davies, Philip Mottram, Tejash Depala, Yuvraj Pandeya, Milan Nayee, Temi Adewalure.