Indian billionaire Gautam Adani's Australian mining firm has secured Sydney's approval to mine coal in Queensland, a venture that will fuel India's coal-starved power plants and could provide electricity to some 100 million people in Asia's third-largest economy.
Adani Mining's looming operations at the Carmichael mine in Queensland's Galilee Basin, which could become Australia's largest coal mine at 60 million tonnes a year, are subject to strict conditions to protect groundwater and the environment, said Australia's environment minister Greg Hunt.
Australia Gains
The A$16.5bn ($15.5bn, £9.1bn, €11.5bn) project will have a resource value of A$5bn per annum over 60 years, according to Hunt.
At full export capacity, the project is expected to contribute almost A$930m to the Mackay region's gross regional product and A$2.97bn to the Queensland economy each year for the next 60 years.
The project will create an estimated 2475 construction jobs and a further 3920 jobs during the operations phase.
The project has a lifetime resource value of at least A$300bn, Hunt said in a statement.
"The absolute strictest of conditions have been imposed to ensure the protection of the environment, with a specific focus on the protection of groundwater.
"These 36 conditions complement the conditions imposed by the Queensland Government, and will ensure the proponent meets the highest environmental standards and that all impacts, including cumulative impacts, are avoided, mitigated or offset," Hunt added.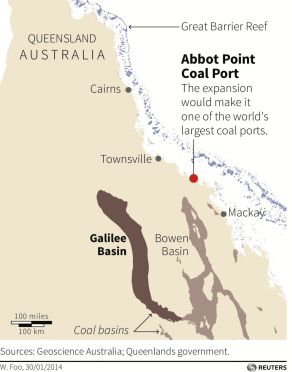 Environmental Concerns
However Greenpeace believes the conditions imposed will do little to protect the local environment and the Great Barrier Reef -- coal will be shipped from the Abbot Point port located near the Reef.
But Five million tonnes of seabed will have to be dug up and dumped within the Great Barrier Reef Marine Park to expand the port for the exports, The Guardian reported.
"A massive coal mine that will damage the Great Barrier Reef and do damage to the local environment and fuel climate change is not protecting the environment," Ben Pearson, Australia Pacific programme director for Greenpeace told Reuters.
Economic Viability
Tim Buckley, director of energy finance studies, Australasia, for the US-based Institute for Energy Economics and Financial Analysis (IEEFA), questioned the controversial project's economic viability.
"It's not surprising that Minister Hunt is going along with [Queensland] Premier [Campbell] Newman and Prime Minister Tony Abbott's desire to facilitate foreign firms in their efforts to try to prop up Australia's declining coal industry.
"Ironically, if this project proceeds, it will actually accelerate the longer term destruction of Australia's coal export industry by dramatically expanding the capital invested whilst at the same time driving coal prices down globally", the Press Trust of India quoted Buckley as saying.
"Global coal prices are already depressed due to excess supply. If the Carmichael project proceeds, it will potentially open up access to another nine mine proposals with a combined thermal coal capacity of up to 300 million tonnes per annum.
"Our analysis forecasts that this would drive down thermal coal export prices a further 10-20%, thereby squeezing coal sector profit margins which are already down to zero," Buckley added.