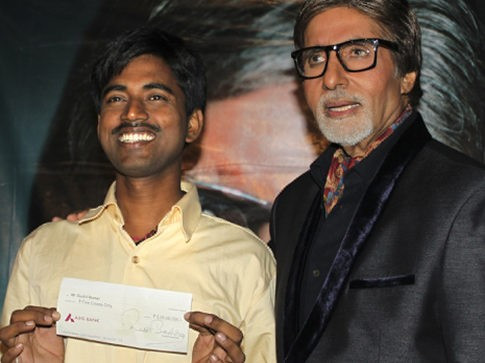 A poor government clerk from a poverty-stricken area of India has been dubbed a real-life Slumdog Millionaire after winning more than £1 million on an Indian game show.
Is a series of events which echoes the 2008 Oscar-winning film Slumdog Millionaire, Sushil Kumar became the first person to win the top prize of 50 million rupees (just over $1million or £620,000) after answering every question correctly on the Indian version of Who Wants To Be A Millionaire?
Kumar, 26, lives in a small town of Motihari in the eastern state of Bihar, earns around $120 (£76) a month as a government computer operator and part-time tutor.
Kumar and his wife of four-months cried as the show's host, Indian film legend Amitabh Bachchan, handed the couple a cheque for 50 million rupees.
"You have created history," said Bachlan after Kumar correctly answered the final question.
"Your grit and determination has made you come so far in this show."
The show is due to be aired on Tuesday. Organisers of the programme refused to reveal what the final question was, only saying it dealt with history.
He told viewers the trip to the Mumbai studio where the show is taped was his first ride in a plane.
Now he plans to pay his parents' debts, buy a new house and build a library for his village Motihari.