An Indian health minister has been photographed relieving himself by the side of a road during a government-led public health campaign – The Clean India Mission – urging citizens not to defecate in public.
Kalicharan Saraf urinated against a wall in Jaipur after getting caught short during a car journey – unfortunately for the Rajasthan state official, a member of the opposition party was passing and took a photograph of the indiscretion.
The picture, which shows Saraf taking a public comfort break on 13 February while an assistant waits by his ministerial car, quickly went viral.
It is not only an embarrassment for the politician, but also the Bharatiya Janata Party (BJP), led by Prime Minister Narendra Modi.
The Clean India Mission is an extensive programme encompassing hundreds of billions of dollars investment in public toilet infrastructure and a celebrity-endorsed campaign to change people's toilet habits.
Although the focus of the initiative is eliminating public defecation, the image of a minister urinating in public is awkward for the government.
The Clean India Mission was launched in 2014 and aims to eradicate open defecation by 2 October 2019 – the 150th anniversary of Gandhi's birth. It is a flagship policy for Modi's government.
"We have to build toilets before temples," the prime minister said in a speech last year. He has often been photographed brandishing a broom to promote the campaign.
The Express Tribune reported that an estimated 500m Indians still defecate outdoors, causing outbreaks of diarrhoea that kill 190,000 children every year.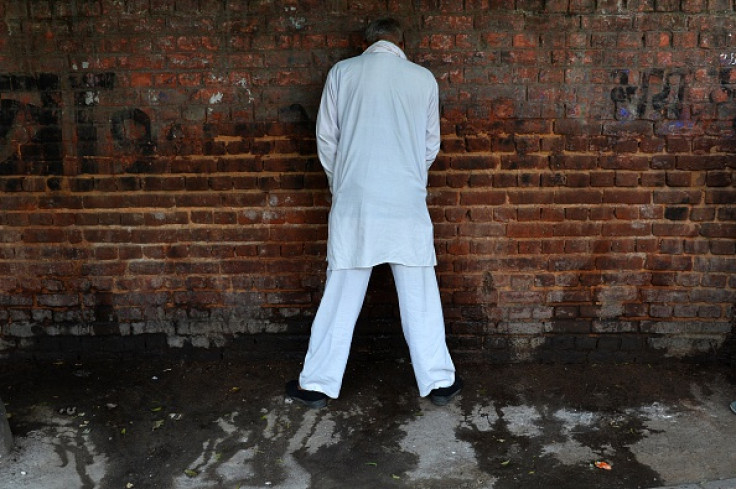 The government claims to have built 60m toilets in the last four years with plans to construct another 20m before the campaign deadline.
However, research has shown that infrastructure will not be enough to end open defecation in the country, with many Indians continuing to ease themselves in public even when new toilets are installed near their homes.
The practice is deeply embedded in some communities. The Express Tribune claimed that many women like to use trips to public toilets as a way of socialising away from the home – and their mother-in-laws.
A host of public figures have joined the campaign in a bid change behaviours, including the actress Shilpa Shetty, cricket star Sachin Tendulkar and the dancer Sonal Mansingh.
Saraf reportedly told Indian news agencies that his public urination was "not a big deal".