Prince William and Kate will wrap up their tour of India with a trip to the ultimate monument of love – the iconic Taj Mahal. The Duke and Duchess of Cambridge will visit the Unesco World Heritage site in Agra on 16 April.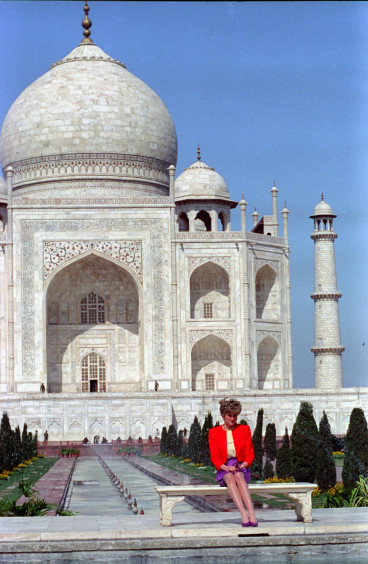 Prince William's visit to India comes 24 years after Princess Diana was famously pictured sitting alone in front of the pristine Taj Mahal, flanked by lush lawns. The image became a symbol of the much-loved princess' loneliness and just months after it was taken, Prince Charles and Princess Diana announced their separation. She described her visit to the landmark of love as "a fantastic" and "very healing" experience. The marble bench, which is still there, has come to be known as "Lady Di's Chair".
Unlike Prince Charles, who visited the 17th century mausoleum as a bachelor in 1980, William and Kate will embark on the trip as a couple at the request of the British government. The couple will arrive in the former British colony on 10 April and will visit Mumbai and New Delhi before moving onto Kaziranga in the state of Assam, northeastern India where they will visit the Kaziranga National Park, a world heritage site that contains two-thirds of the world's greater one-horned rhinos. They will also experience the traditions of nearby communities.
The Duke and Duchess of Cambridge – who are travelling without Prince George and Princess Charlotte – will also head to the Himalayan mountain kingdom of Bhutan, nestled between India and China. New parents King Jigme and Queen Jetsun – dubbed the "William and Kate of the Orient" – welcomed a son earlier this month and will host the British couple.
A Kensington Palace spokesman said: "The Duke and Duchess are very much looking forward to their tours of India and Bhutan. They will pay tribute to India's proud history, but also are keen to understand the hopes and aspirations of young Indian people and the major role they will play in shaping the 21st century.
He added: "Their visit to Bhutan will allow them to continue a relationship between two royal families by meeting the king and queen. The Duke and Duchess have heard many wonderful things about the country and are grateful to have this opportunity to get to know the Bhutanese people."