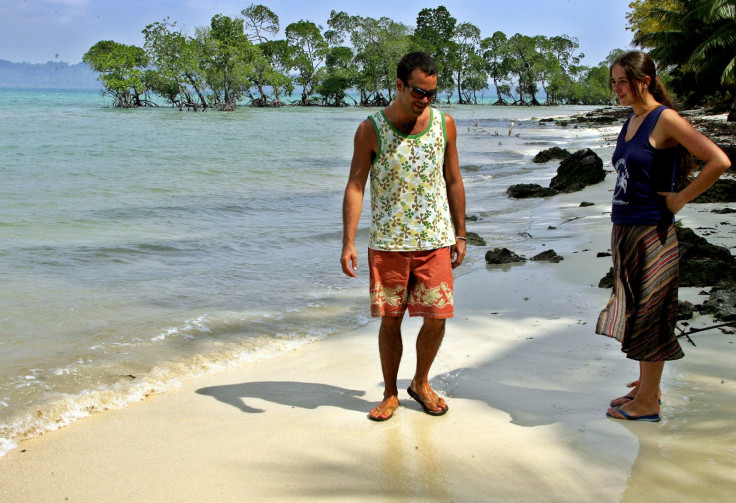 The Indian navy has deployed four ships to rescue hundreds of tourists who are stranded in one of the islets in the Andaman and Nicobar Islands. About 800 tourists, including several foreigners, are waiting on the Havelock Island, a popular tourist destination, due to heavy rainfall.
Authorities are still unclear whether conditions will worsen into a cyclone. So far, aerial evacuation has been ruled out due to the rough weather. One report suggests there were more than 1,400 tourists in Havelock.
"The ships departed Port Blair from 3.15am onwards and are on location. The sea state is bad with [a] heavy swell. They will go alongside and ferry tourists to Port Blair. Their safety is the highest consideration," a navy spokesperson was quoted as saying. The Indian navy's INS Bitra, Bangaram, Kumbhir and LCU 38 will lead the rescue operations.
The Havelock Island is located about 40kms from the state capital Port Blair and is known for azure waters. Scores of tourists, both domestic and international, flock the destination to enjoy the coral reefs and water sports during this season of the year.
None of the ferries, the only mode of transport between Port Blair and Havelock for the public, managed to operate following the deluge. The evacuation mission, initiated early on 7 December, is expected to be completed by late in the evening.
A weather bulletin on Wednesday morning read: "It is very likely to intensify into a deep depression during the next 24 hours and into a cyclonic storm in subsequent 24 hours." The Andaman archipelago has been witnessing heavy rainfall since Sunday, 4 December, accompanied by gusty winds.
Andamans, made up of 300 islands of different sizes, is an Indian union territory located in the Bay of Bengal at a distance of about 1,200kms from the mainland.