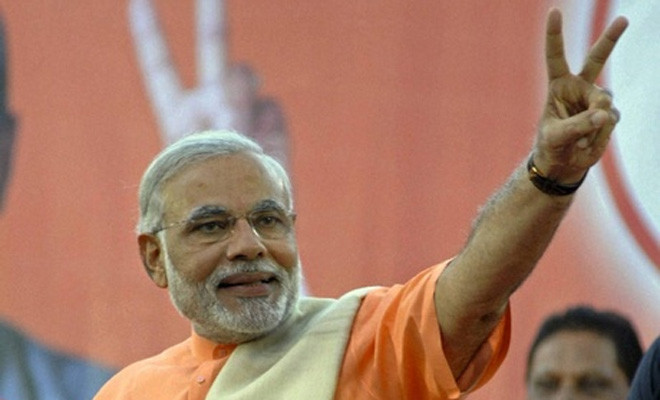 Days ahead of a visit to Ireland and the United States, Indian Prime Minister Narendra Modi has won high approval ratings from an American survey. It said the controversial leader enjoyed an 87% backing, a 9% jump from 2013 when 78% percent had a favourable opinion of Modi.
The Pew Research Center survey also shows that 74% believe the Indian economy is headed in the right direction and expect it to improve significantly over the next 12 months. The poll was conducted among 2,452 respondents in India from 6 April to 19 May, 2015.
"Public satisfaction with India's direction has nearly doubled since 2013 and pride in the country is up," the Pew Research Center said. "The Modi phenomenon transcends India's traditionally partisan politics. On most of the challenges facing the nation, the prime minister and his party enjoy support from both the BJP party faithful and followers of the opposition Congress party. Moreover, Modi and the BJP now have greater backing than Congress in rural areas, traditionally a Congress stronghold," said Bruce Strikes of Pew Pew Research Center.
However, the survey handed Modi less flattering approval on communal ties, crime rate, employment, school education, pollution, corruption, inflation, healthcare and income inequalities. Congress scion Rahul Gandhi, the son of the Italian-born party supremo Sonia Gandhi, was the second most favoured leader with 62% backing, followed by AAP's Arvind Kejriwal with 60%, and Gandhi with 58%.
Modi will be travelling to Ireland and the US during 23-29 September. The visit to Ireland on 23 September will be the first for an Indian prime minister in 60 years. Modi will be holding talks with Taoiseach (prime minister) Enda Kenny. "We hope to further develop strong people-to-people and economic ties with Ireland in the years to come. In Ireland, I will also interact with the Indian community," Modi wrote in a Facebook post.
Modi will be visiting the US at a historic moment when the United Nations celebrates its 70th anniversary and in New York he will address the UN Sustainable Development Summit for formal adoption of a new sustainable development agenda. Also, Modi will be participating in a summit hosted by President Barack Obama on peacekeeping. India has been one of the largest contributors to the UN peacekeeping forces.