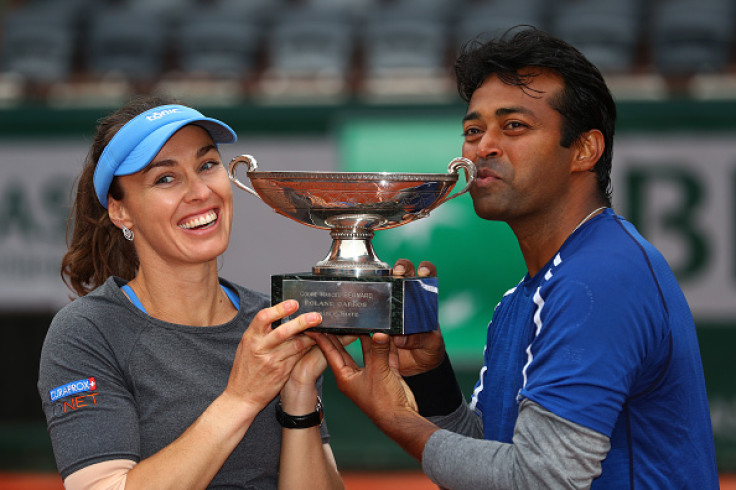 India's legendary tennis player Leander Paes has hit out at certain "jealous competitors" who he says, are tarnishing his reputation. Controversies seem to follow the 43-year-old wherever he goes and this he feels is due to false propaganda spread by fellow competitors, who have failed to achieve great heights in their careers.
Although Paes did not name any players, he said that whatever negativity he see's around him is due to certain jealous players and added that he is not bothered because he is focused on tennis and is busy writing himself into history books.
"In this part of my career, most of my competitors were highly jealous. They might not understand what it takes to win 18 Grand Slams and play seven Olympics. Some competitors you give them 10 life times, they will still not be able to achieve that. Instead of working hard, they want to knock me down," Paes said, according to the Indian Express.
"They want to ruin my reputation by doing ulterior things, so that perception of the public is that Leander is a bad man. It takes a whole lifetime to build a reputation and it takes one second to ruin it."
Paes, who is also considered as one of the best doubles and mixed doubles players off all time, has also seen his personal life been pulled into controversy, while being in the news for having a frosty relationship with fellow Indian players.
He enjoyed a highly successful partnership with Mahesh Bhupathi becoming the first doubles team of the open era to reach the finals of all four-grand slams and going on to win two of them. The two split after a while, due to differences between them.
"Few people are always trying to tarnish my reputation. There are some competitors out there who are highly jealous of what I have achieved. Instead of working hard to achieve it themselves, they realize, they can't to that quantum, so hence let's ruin his reputation. One person will put one story here, one there and build perception," the 18-time grand slam winner added.