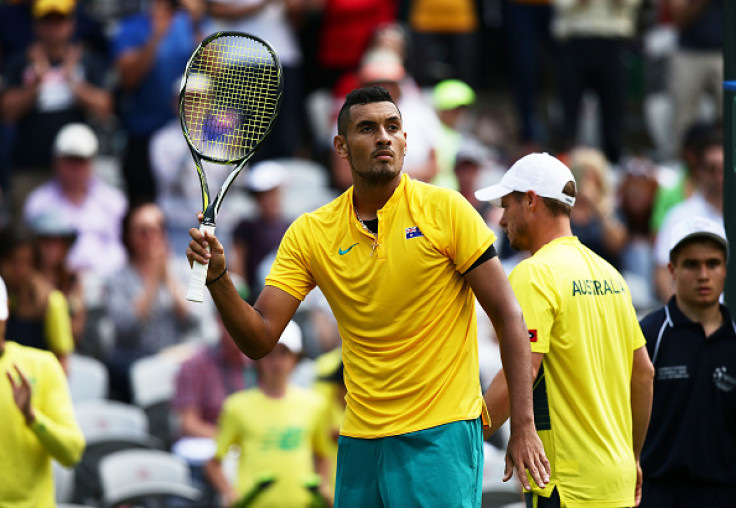 Australia tennis star Nick Kyrgios has reiterated his desire and commitment to bid adieu to the sport in the near future, claiming that he will retire in the "next four-five years." The 21-year-old, who is currently in action for Australia in the Davis Cup, beat Slovakia's Andrej Martin to earn his country a 1-0 lead in the World Group playoff in Sydney.
Australia's most exciting tennis prospect had revealed last month that he would say farewell to the sport by the age of 27 to hopefully pursue a professional basketball career while also claiming that he would quit if he won the recently concluded US Open.
"I'm only playing for another four, five years. It was a great feeling (he said on his Davis Cup win). I know how important it was to get our team off to a good start. Rusty (Leyton Hewitt) was trying to keep me engaged the whole time and I thought my performance today was very good mentally. I thought I was very professional and I played well", Kyrgios was quoted as saying by Stuff New Zealand.
The Australian suffered from nose bleed during the game, needing to overcome it in the third set on the way to a win. This led to Kyrgios taking a pot shot at world number one Novak Djokovic, who took a medical time-out during the US Open final, where he got his toes taped, which he claimed distracted him. Kyrgios for his part did not take a time-out, instead opting to place a tissue on his nose during changeovers.
"I'm not trying to do a Novak at the US Open. Like I've got a blocked nose mate. I've to fix it. I can't play with blood coming out of my nose. I mean, I want to play. I don't want to take breaks. It was tough. It breaks the momentum. Obviosuly, the other guy doesn't really know what's going on either. I want to get the match going as quickly as possible anyone can. I don't want to hang around", the Australian concluded.