Fans of the Indiana Jones were delighted when it was announced in March that Harrison Ford would once again don the fedora in a fifth instalment, and that Oscar-winning Steven Spielberg was back as director. Now, they'll have even more reason to rejoice as acclaimed composer John Williams has just been confirmed to score the film.
"John Williams will come back and score [the film], absolutely," Spielberg revealed at an American Film Institute event on Thursday ,9 June. The night was dedicated to honouring Williams as he received the AFI Life Achievement Award at the Dolby Theatre in Hollywood, according to ET Online.
Having previously worked with Spielberg on past Indy films, as well as his most famous outings including Jaws, ET the Extra-Terrestrial, Schindler's List and Jurassic Park, it's no surprise the director wanted to make sure they teamed up again. Spielberg's aren't the only iconic movies Williams has created the music for either, having composed the scores for such classics as all of the Star Wars instalments from A New Hope to The Force Awakens as well as Hook, Home Alone and Harry Potter And The Philosopher's Stone.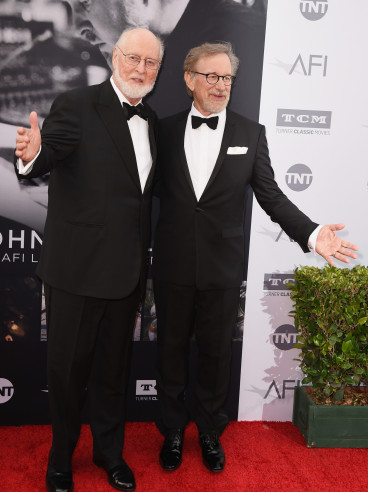 While it's been regarded as hugely positive that Williams is back on board, one addition to the eagerly-anticipated sequel that didn't go down so well was screenwriter David Koepp.
It's widely believed that 2008's Kingdom Of The Crystal Skull is the weakest instalment in the Indiana Jones franchise, with many fans blaming that on Koepp's screenplay. (Even aside from the fact that mystical aliens showed up with no real explanation and Shia LaBeouf hammed up his role like there's no tomorrow).
Some film fans even took to Twitter to share their less-than positive thoughts about Koepp's involvement in film five. One user scathing wrote: "Spielberg chose David Koepp who wrote the God-awful Kingdom of the Crystal Skull to write the new Indiana Jones movie. #HeChosePoorly," while another simply exclaimed "Why Steven? Why?!"
Either way, there's no denying that this film will likely be a box-office smash. At the moment, the film is aiming to reach US cinemas in July 2019.
For more entertainment news follow A-List on Twitter @Alistinsider