Ghostbusters: Melissa McCarthy and co unite with Bill Murray's original gang for film anniversary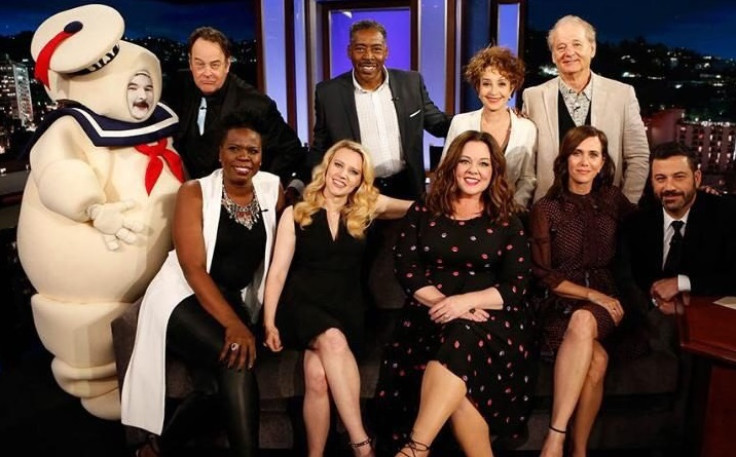 Now that the promotional tour of Paul Feig's Ghostbusters is well under way ahead of the film's release in July, viewers saw the new gang join chat show host Jimmy Kimmel on his late night show to talk up the reboot on 8 June. But seeing as the day marked a special anniversary in the original movie's history – it was released on that date back in 1984 – they were joined on the sofa by the old cast.
During the interview, Bill Murray, Dan Ackroyd, Ernie Hudson and Annie Potts surprised their successors Melissa McCarthy, Kristen Wiig, Kate McKinnon and Leslie Jones in honour of Ghostbusters Day. While on the show, Kimmel quizzed the original stars about what they thought of the new film and simultaneously asked the newbies if they could remember where they were when they saw the first instalment.
"I was in utero," McKinnon joked. "Thank God I left, that was good stuff, I'll never forget it." Meanwhile, McCarthy admitted: "I was in Plainfield, Illinois. I was 14. I may have seen it repeatedly, like a lot, and I was slightly obsessed with it."
Kimmel went on to ask Murray why, after turning down so many previous pitches for Ghostbusters sequels, did he finally agree to take part in this imagining, to which he replied: "It was only 'cos I knew these girls were funny. When you see the film, and you'll delight in the film, it sort of rumbles along in the beginning, you're going 'oh god, are they gonna pull this thing off?' but they just, there is no quit in these girls. We were cheering and screaming by the end of it."
Later, they all danced to the iconic Ghostbusters theme song performed by Ray Parker, Jr, who sang it originally too. Before the programme, both sets of casts posed for a group selfie, which filmmaker Feig posted on Twitter shortly after. "I mean, c'mon, how can this picture NOT make you happy? This is an epic group of people. Happy Ghostbusters Day!" he wrote alongside the snapshot.
"Seeing the original and new Ghostbusters all together (will be) like being in the presence of the comedy gods on Mount Olympus," Feig previously told USA Today about the union. "This is an epic summit of some of the funniest people on the planet. Long live the Ghostbusters!"
Ghostbusters will be seen in UK cinemas from the 11 July and US big screens from the 15th.
© Copyright IBTimes 2023. All rights reserved.