Could The Shallows mark the long-awaited comeback of the 'serious shark movie'? Judging by the final trailer for the upcoming Blake Lively-fronted thriller, it certainly looks that way. Sony Pictures' recently-released sneak peek abandons all the gimmicks seen in previous films in the genre, to deliver a tense and downright chilling look at a young woman fighting for her life.
The premise is simple and focuses solely on Lively's Nancy, an avid surfer who travels to a secluded beach one day to sample the waves. Soon however, she finds herself on the feeding ground of a great white shark and despite being only 200 yards from shore, getting there proves the ultimate test of will.
Directed by Jaume Collet-Serra, the Spanish filmmaker behind taut pictures Orphan and Non-Stop, the clip showcases the film's gorgeous look too, from the peaceful sands of Australia to the harsh, slippery rocks that provide safe refuge for Nancy during the ordeal.
Since Jaws in 1975, there hasn't really been a survival film in the same vein that matched the incredibly tense and the often-heard quote: "I'm never going to swim in the sea again."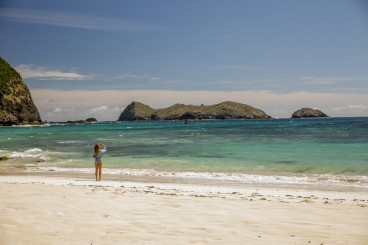 Most shark movies that followed focused on the shock factor; Stellan Skarsgård getting his arm bitten clean off in Deep Blue Sea, Shark Night presenting every kind of shark that you can find during its 90 minute running time and possibly the worst scene in animal horror history... when the lead character in Sharknado jumped into the mouth of a great white and cut his way out of its belly with a chainsaw.
With all that behind us, it's so refreshing to see a film that seems focused on the emotional strain such a situation would have on a person and what happens when the survival instinct really kicks in. Plus it looks genuinely stunning to boot. The Shallows is scheduled to reach US cinemas on 29 June and will be seen in the UK from the 12 August.
For more entertainment news follow A-List on Twitter @Alistinsider