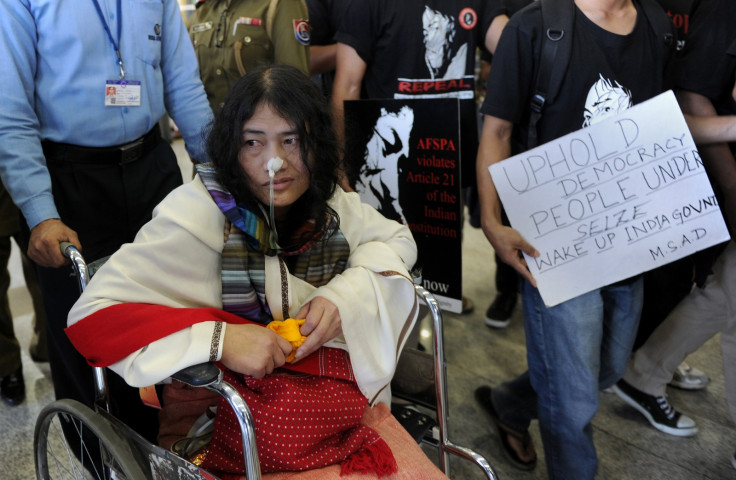 A leading human rights activist in India, who has been on a hunger strike since 2000, has decided to break her fast. Irom Sharmila, who is popularly known as the 'Iron Lady' told the local media on Tuesday (26 July) that she will end her fast on 9 August to contest elections in the north-eastern state of Manipur.
Sharmila holds the record for the world's longest hunger strike to protest against the controversial Armed Forces Special Powers Act (Afspa) and demand that it to be revoked. Indian law suspends human rights protections in conflict zones giving the army unrestrained power.
According to local media reports, Sharmila announced her decision to end her fast as she felt let down by the government, which has reportedly not given her any positive response on the issue. She would, however, try to resolve the issue by contesting local elections in Manipur in 2017. News 18 reported that she would contest as an independent candidate.
"It is a bit of a surprise. We are trying to get in touch with her for more details," an activist close to Sharmila told the news media. It was reported that she had earlier rejected an offer from the Aam Aadmi Party (Common Man's Party) to contest the lower house elections from Manipur constituency in 2014. Those associated with her are reported to be seeing this as a new beginning in the activist's fight against Afspa in Manipur.
The 44-year-old began her strike 16 years ago when 10 civilians were shot dead allegedly by a group of soldiers from Assam Rifles in Manipur's capital Imphal. Since then she is said to have refused to eat or drink and has not consumed a single morsel of food willingly. Within three days into her fast in November 2000, she was arrested and charged with trying to commit suicide, which is a crime in India.
Sharmila had been frequently arrested and detained, and had been force-fed through a nasal tube as her health had deteriorated severely during her early detention period.
The Afspa has been in force in many parts of the north-eastern states and in Jammu and Kashmir. It has been heavily criticised for giving the armed forces the power to search without a warrant and shoot at sight if they suspect any person engaging in anti-national activities. Despite calls by the UN and several other international and national groups to repeal the law, it continues to be in force.