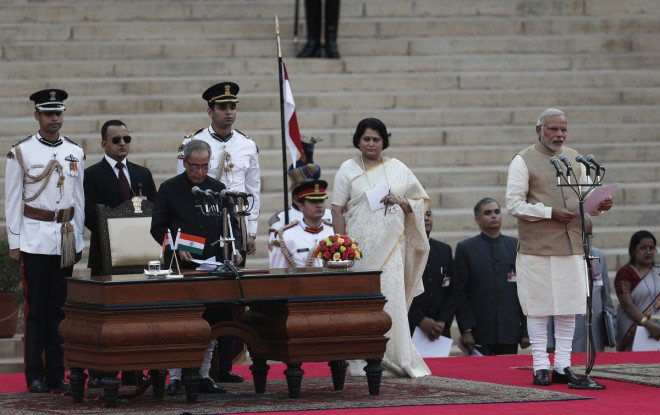 India's new prime minister, Narendra Modi, has stuck to his promise of having a compact cabinet compared to the bloated ones that ruled the country in the past.
"Keeping our commitment to 'Minimum Government, Maximum Governance' -- we have made an unprecedented and positive change in ministry formation," he said in a tweet.
Ranging from veterans from the ruling Bharatiya Janata Party to some new faces, the Modi ministry is seen as a business-like formation.
Here is a look at some of the key Indian ministers:
BJP president Rajnath Singh and party strongman is second to Modi in the hierarchy. As the country's new home minister, his task is cut out in view of the terror threat India faces. A minister of agriculture in the previous BJP government, he initiated some important programmes such as farmers' call centre project and farm income insurance scheme.
Arun Jaitley, seen as one of the architects of Modi's ascendancy to power, holds the crucial finance portfolio. Analysts view him as an economic liberaliser free from ideological shibboleths. He also has temporary charge of defence.
He was a law minister in the previous BJP government.
Another party veteran, Sushma Swaraj, as the foreign minister, is expected to help forge closer ties with India's neighbours, especially Pakistan, whose prime minister, Nawaz Sharif, has already reached out to India by attending Modi's swearing-in ceremony.
Swaraj was the information and broadcasting minister in former prime minister Atal Behari Vajpayee's government.
Former army chief General V K Singh has been assigned the portfolio of minister of state, along with independent charge of India's north-east affairs. Tackling insurgency and communal clashes, especially in Assam, is expected to be high on his agenda.
Among the newcomers is 38-year-old television actress-turned activist Smriti Irani, the youngest member of the Modi cabinet. In the just-concluded elections, she lost by a small margin to the Congress's Rahul Gandhi at Amethi in the northern Indian state of Uttar Pradesh. She is the human resources development minister.